Iterable allows you to create two different types of user lists: static and dynamic.
Static lists
Also known as "standard lists", the email addresses on a static list do not change over time (unless a user is added or removed from that list). When you upload a CSV file of subscribers, you are creating a static list.
You can also use the segmentation tool to create a static list. After building your query, use the Save as Static List button to create your list.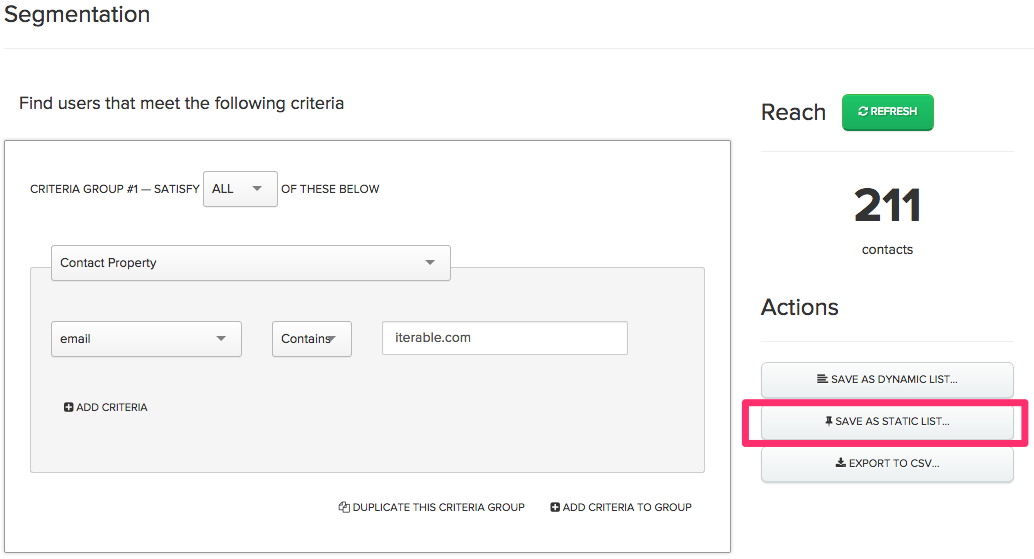 You can also create multiple static lists with one query. Just determine the size of each list and it will randomly add users to each list.
Workflows can be triggered when a user joins a static list. In the trigger node, select the Subscribe to List option. Workflows cannot be triggered off of dynamic lists.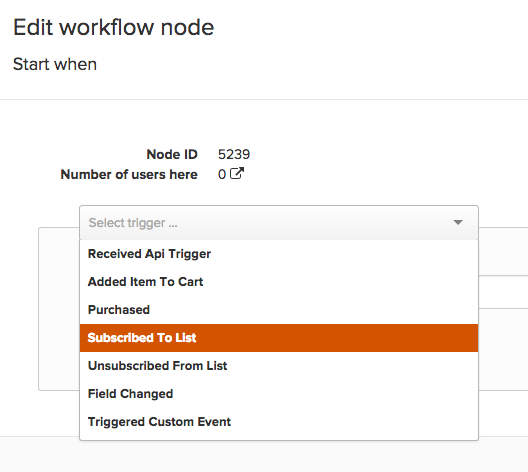 When adding users to a list to trigger a workflow through the UI, be sure to check the box marked Send List Membership & Field Change Events to Trigger Workflow. If you do not check this box, the users will get uploaded but the workflow will not be triggered.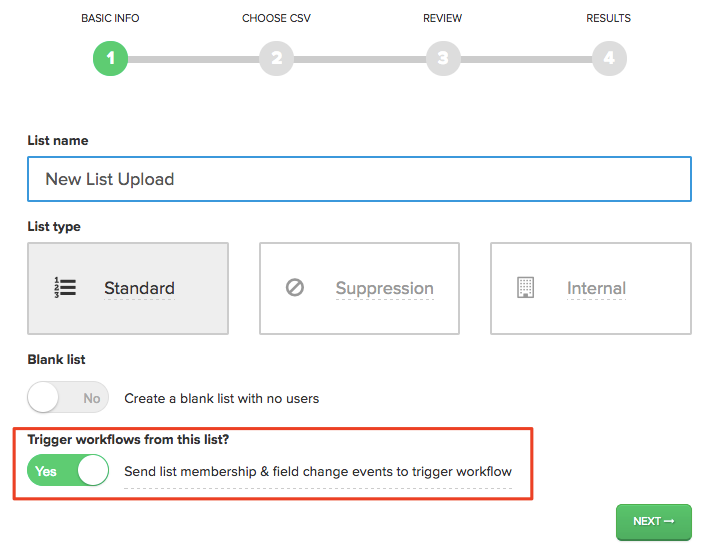 Suppression and internal lists are two additional types of static lists. Creating lists of these types will denote them as such in dropdowns (see green box below), so that you can better understand the intention of the list at a glance.

Suppression lists are intended to exclude certain users from being included in email sends. These lists cannot be entered as send lists for campaigns. They can only be listed as suppression lists.
Internal lists are meant to be used for internal purposes, such as sending proofs for review and testing.
Dynamic lists
A dynamic list simply saves a query, so any time you view, edit, or use a dynamic list, it performs the search and returns the matching users. When you use a dynamic list for a campaign, it will only send emails to subscribers who match that query at send time. A good dynamic list could search for people who have opened or clicked an email in the past 90 days. This query can help you find your active users at any given moment in time without having to recreate a list.
You can also use the segmentation tool to create a dynamic list. After building your query, use the 'Save as Dynamic List' button to create your list.