The Journeys page is your home base for managing the journeys you build in Iterable. To get there, go to Messaging > Journeys.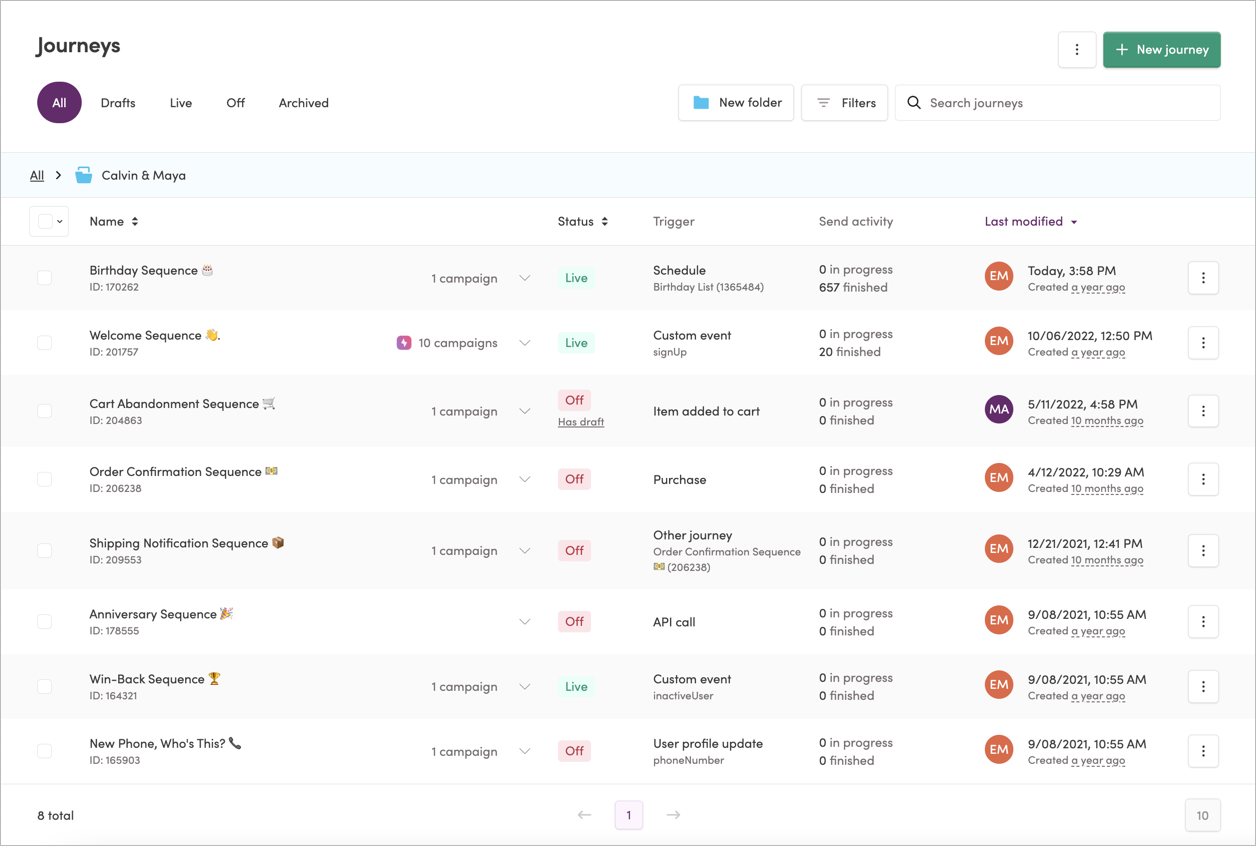 From this page, you can:
Create a new journey
Copy an existing journey
Turn a journey on or off
Archive a journey you no longer need
Open a journey to edit it in Studio
In this article
Required permissions
To view, search, and filter your organization's journeys, you'll need the View Journeys, Campaigns, & Experiments permission.

To create, edit, or copy a journey, you'll need the Draft Journeys, Campaigns, & Experiments permission.

To archive a journey, you'll need the Manage and Publish Journeys permission.
Creating a journey
To create a new journey, click New journey.
Give your journey a name and description and click Create journey.
Copying a journey
To replicate a successful journey, instead of building it all over again, you can make a copy! For example, you may find this useful if your team:
Wants to use one journey as a "template" for all the new ones you build
Builds campaigns and journeys in a sandbox project before moving them to production
In each of these cases, you can save time by making a copy of a journey that's working well instead of building it again from scratch.
To make a copy of a journey, click the three dots and select Make a copy.
Enter a name for the new journey (or you can leave the default name there if you prefer), then select the project you want to copy the journey to. You can either copy the journey to the same project you're currently in, or select a different destination project.
If you decide to copy to a different project, keep in mind that you may need to tweak some tile settings to get things working right in the new project. You will also need the Draft Journeys permission in both projects.
You can choose to copy just the journey tiles, or you can include copies of the journey's campaigns.
NOTE
If you choose to copy your campaigns to the new journey, some of your content won't be copied to the destination project:
Image files — Images will still work in your new campaigns, but the files will be stored in the original project.

Snippets, catalogs, and webhooks — These items aren't duplicated when you copy a journey. However, snippets and catalogs that already exist in a destination project continue to work in copied campaigns.
When you copy a journey to a new project, you'll need to review the copy in the new project to make sure everything is set up correctly. Any tiles that need to be edited will be highlighted in red:
Click through the Review needed panel to visit and edit each tile, then save and publish the journey when you're ready.
Turning a journey on/off
To turn a journey on or off, click the three dots on the right side of the journey's row and select Turn on or Turn off.
Archiving a journey
To archive a journey, click the three dots on the right side of the journey's row and select Archive.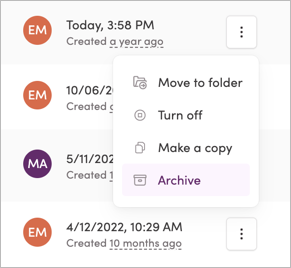 Viewing previous versions of a journey
To view or restore a previous version of a published journey, click the journey's name. This will open the journey in Studio.
From here, click the three dots at the top of the page and select Version history.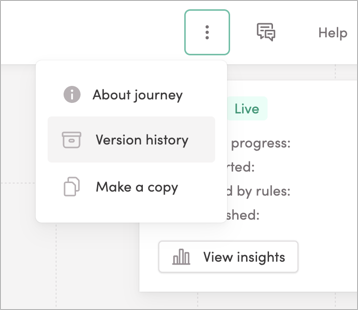 See Editing Journeys to learn more.