Journeys (formerly called Workflows) are automated messaging sequences that help you create seamless, personalized customer experiences. Journeys let you orchestrate entire brand interactions, so you can send the right message to the right user at every touchpoint.
With journeys, you can send your users messages, wait for them to open them, personalize their experience based on their attributes or behavior, update your users' subscription preferences, and send or retrieve data from third-party services.
You can use journeys to build things like:
Welcome sequences
Cart abandonment sequences
Special offers and promos
Birthday or anniversary sequences
And so much more!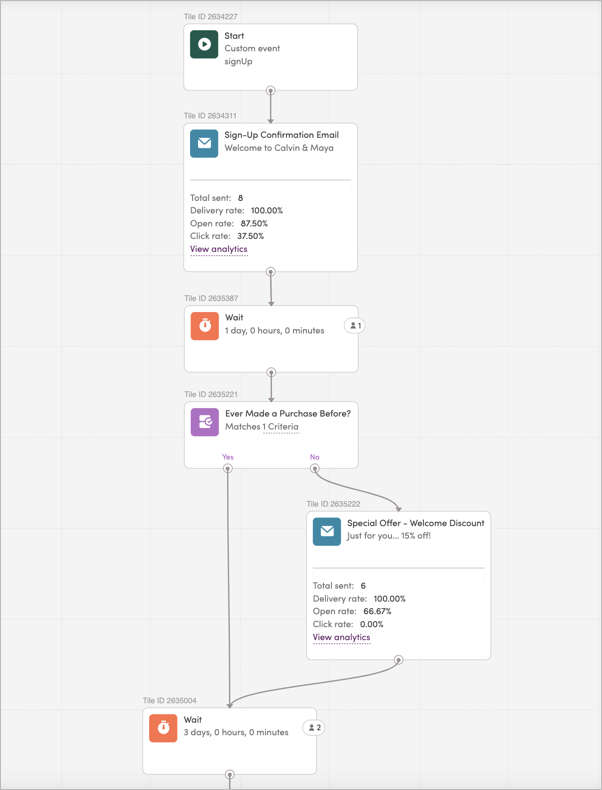 Table of contents
Required permissions
To view, search, and filter your organization's journeys, you'll need the View Journeys, Campaigns, & Experiments permission.

To create, edit, or copy a journey, you'll need the Draft Journeys, Campaigns, & Experiments permission.

To archive a journey, you'll need the Manage and Publish Journeys permission.
Getting started
Sign in to Iterable and navigate to Messaging > Journeys.
The Journeys page lets you keep track of all your current and past customer journeys at a glance. From this page, you can:
Create a new journey
Make a copy of an existing journey
Check the status, entry source, sends, and last modified date of all your journeys
Sort, search, and filter your journeys
Archive journeys you no longer need
Organize your journeys into folders
Creating a new journey
Journeys consist of a beginning (the Start tile), a series of steps or stages (tiles), and the branches and paths between them (connections).
To create a new journey, click the New journey button.
This will take you to Studio, our journey builder tool. See Building and Editing Journeys to learn more about using Studio.