Create a report, measuring metrics for a specific campaign or workflow.
Managing reports
From the Manage Reports page, you can view all of your reports, access individual reports or delete reports. Note that reports are shared across all users in your project.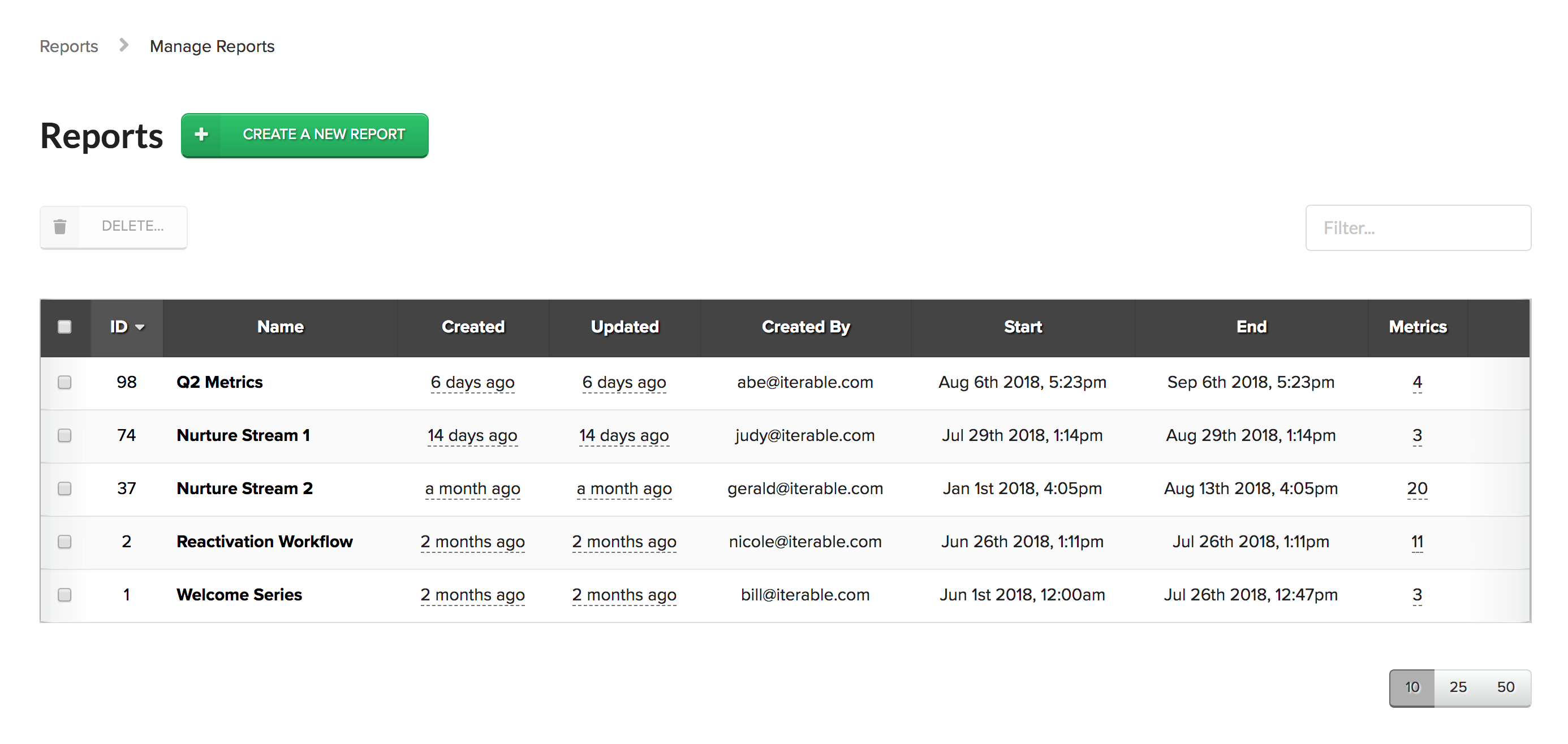 Create a report
Follow these instructions to create a report:
After clicking on the Create a New Report button, add your report name:

Next, select the metrics you want displayed in your report. You can also Select All metrics at the top of the list.

Unique Clicks
Total Purchases
Click Rate
Total Bounces
Unique Open Rate
Total Clicks
Bounce Rate
Total Unsubscribes
Revenue
Total Sent
Total App Uninstalls
Delivery Rate
Total Delivered
Total Opens
Clicks/Opens
Total Complaints
Unique Opens

Select the date range that you want data displayed for using the calendar widget. You can also select preconfigured date rages, including:

Today
Yesterday
Past 3 Days
Past 5 Days
Past Week
Past Month

Finally, you can select either individual or multiple campaigns and workflows to populate your report.

NOTE

If you select a workflow, all campaigns associated with the workflow will be pulled into the report.
Viewing the report
After creating your report, you can change its campaigns and workflows, its date range, and the metrics that you want displayed.
Chart View
You can select from the following chart types:
Campaign and Workflow views
Campaign or Workflow view will display a list of all your selected campaigns, or of all the campaigns in your selected workflow, and present a table of aggregated values for the selected metrics across the chosen date range.
Date Time View
Date Time view will provide either a daily or hourly breakdown of *performance for you campaigns depending on the time range selected.