Iterable projects provide two levels of metrics:
#Table of contents
#Campaign-level metrics
To view the metrics for a specific campaign, open the campaign in Iterable. Metrics are visible for campaigns that are running or finished.
At the top of the campaign's page, you will see the overall campaign details like launch time, the list used, the status of the campaign, which template was used and the experiment details.
The list size at send time is equal to the total number of subscribers on the list minus the number of subscribers who have unsubscribed from the message channel delivering the message. Therefore, the list size may differ from the actual send size.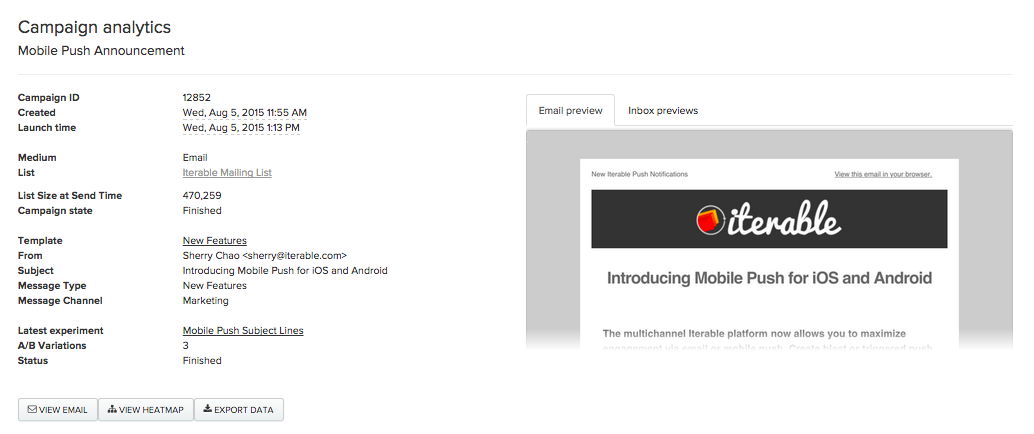 #Email template
Click the View Email button to navigate to the template used in the campaign:
#Heatmaps
Click the View Heatmap button to navigate to a heatmap that describes where users are clicking in a message:
View different heatmaps for each of the variations of a campaign experiment by clicking on the dropdown on the left-hand side above the heatmap table:

Use the search bar to filter for specific links or text. You can also view the raw link data by toggling on the "Show raw link data," which is useful for showing link stats for highly dynamic content.
#Exporting data
Click the Export Data button to export a variety of different reports as a CSV file.
You can drill down to the specific individuals who opened, clicked, or purchased from your campaigns.
Export data such as email clicks, purchase, email unsubscribes, hosted unsubscibe clicks, email or spam complaints, custom events, bounces, opens, subscibes, sends, and uninstalls.
#Displaying metrics
At the bottom of the page, select metrics, date ranges, and experiment variations.
TIP
Remember to select which metrics you want to view from the dropdown on the right - none of them will be selected by default.
#Events over time
The following graph displays open, click, unsubscribe, bounce, and other events over time:
#Segment analysis
The segment analysis grid shows various metrics by user segment:
#Opens breakdown
The opens breakdown pie chart shows statics for Unique opens and Not yet opened: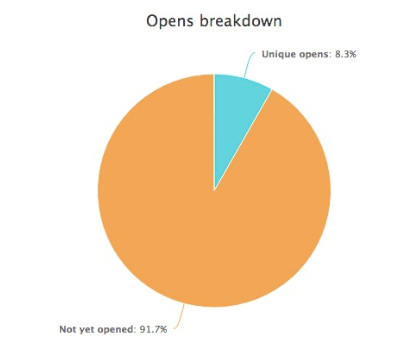 #Device type breakdown
The device type breakdown shows the devices that have been used to open a campaign:
Some of the slices on this pie chart include:
iPhone: Apple's Mail app on an iPhone
iPad: Apple Mail app on an iPad
Gmail: Gmail app or website
Android: Non-Gmail app opens on Android
—: Unknown user agent and device
NOTES
The Gmail slice includes users who used a Gmail app or the Gmail website, since Iterable is not able to distinguish between the two.
If a user uses a non-Gmail email client to open an email sent to a Gmail account, the open is counted in a non-Gmail bucket. For example, if a user opened such an email using the Mail app on the iPhone, the open would be counted by Iterable as an iPhone open.
#Map
The world map shows locations where users have engaged with your campaigns: