There are two levels of metric visibility available for your Iterable project:
Campaign-level (specific to a campaign; covered in this article)
Aggregate-level (across multiple campaigns, covered in a separate support article)
If you want to learn about email campaign metrics, click here.
If you want to learn about SMS campaign metrics, click here.
If you want to learn about push notification metrics, click here.


Campaign Level Metrics
In order to view the metrics for a specific campaign, select the campaign from a campaign list. Metrics are visible for campaigns that are running or finished. 
At the top of the page, you will see the overall campaign details like launch time, the list used, the status of the campaign, which template was used and the experiment details. Note that the list size at send time = total numbers of subscribers on the list - subscribers who have unsubscribed from the message channel that is delivering the message. Therefore, the list size may differ from the actual send size. To learn more about message channels and types, click here.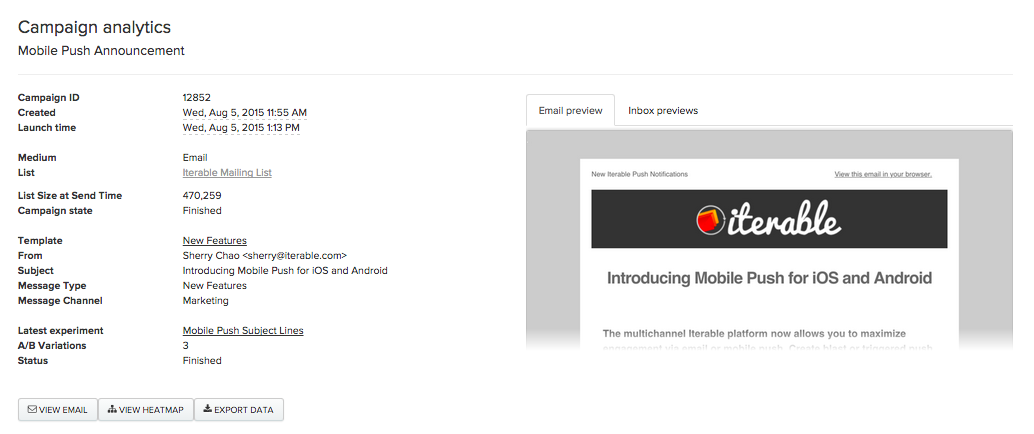 The 'View Email' button will take you to the template that was used in the campaign.
The 'View Heatmap' button will take you to a clicks heatmap and report for the campaign. You will be able to see which links were the most popular. 
The 'Export Data' button allows you to export a variety of different reports as a CSV file. You can drill down to the specific individuals who opened, clicked or purchased from your campaigns. 
At the bottom of the page, you can select up to 22 different metrics for your email campaigns. You can also select the date range for the metrics and to only display numbers for certain experiment variations. Remember to select which metrics you want to view from the dropdown on the right - none of them will be selected by default.
You can also see a graph of when the opens, clicks, unsubscribes, bounces, etc, occurred over time.
The Segment Analysis shows various metrics for different groups of users. 
Next, you'll see two pie charts showing opens vs. not yet opened and a breakdown of which devices or clients were used to open the email. 
In the "Device type breakdown" pie chart, the Gmail breakout includes users who used the Gmail app and the web version of Gmail, while the iPhone breakout encompasses users who utilized the Mail app.
For example, if a user opened an email that was sent to their Gmail account through the iPhone Mail app, they would fall under the iPhone breakout. 
Note: At this time, Iterable is unable to distinguish between the web and app versions of Gmail in the Gmail breakout due to the information that we receive from the email service.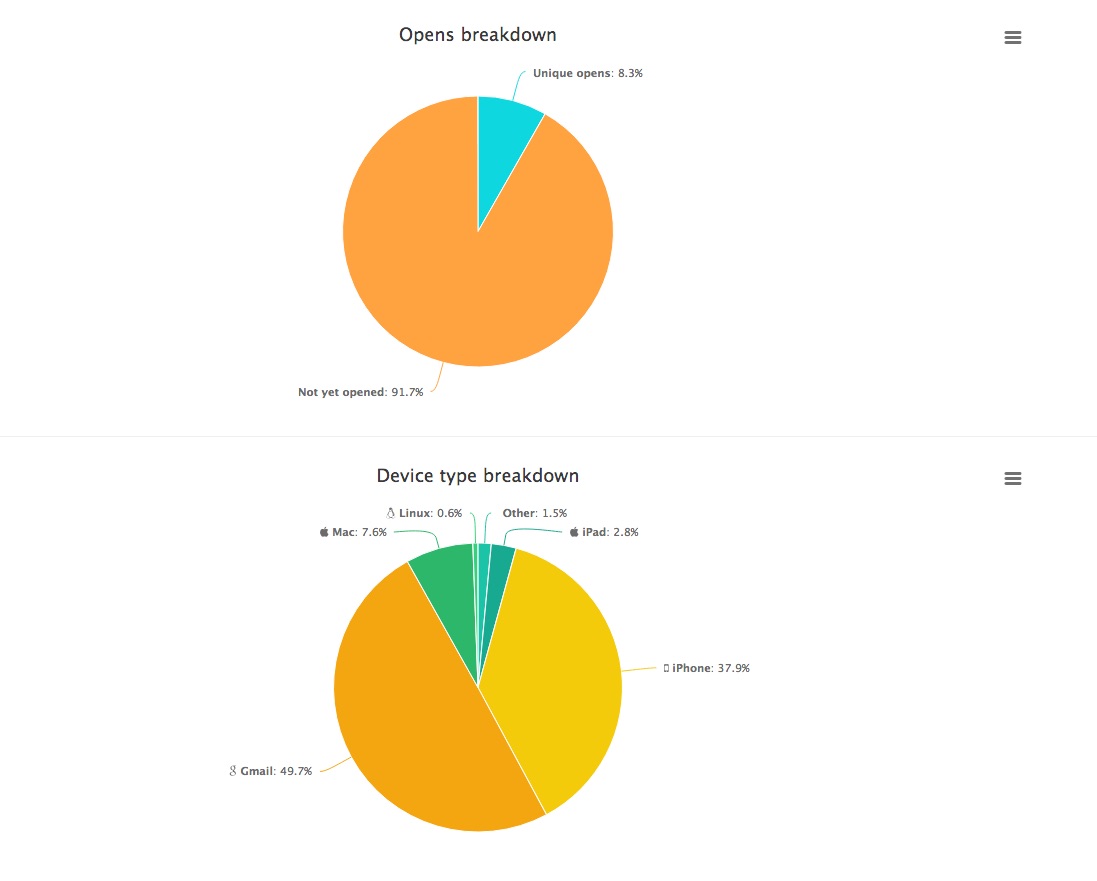 Below that is a world map of where people engaged with your email.