Message channels are a way to separate/isolate the unsubscribes and deliverability of different kinds of messages (e.g., marketing vs. transactional). 
Message types exist within message channels and are a way of further segmenting the messages you send within a channel and distinguishing between them for unsubscribe purposes.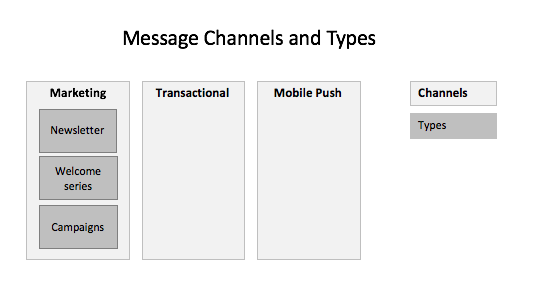 Both of these concepts are important to understand if you plan on setting up a Subscription Preference Center.
Message Channels Overview
By default, you have 3 message channels:
Marketing Channel (email)
Transactional Channel (email)
Push Marketing Channel
As an example, if a subscriber unsubscribes from messages sent via your marketing channel, they will continue to receive your transactional channel emails. Likewise, if the deliverability for your marketing messages is reduced due to spam reports, the deliverability of your transactional messages will be unaffected since they are sent via the different transactional message channel.