Check out the new features we've released in 2023!
If you have questions about any of these features, talk to your Iterable customer success manager.
January 2023
Templates improvements
January 31, 2023
We've released another batch of templates updates! Here's what we've improved with this release:
Large templates load faster
To load large templates faster, Iterable now runs template content error validation in the background. The template UI loads first, so you can start editing right away while Iterable works on finding any common errors or missing requirements in your content.
When you're editing a large template, it might take a few seconds for error messages to appear. When you're editing a campaign, the Continue to Review button is disabled until the content is finished being checked for errors. You might notice this in templates with many locales, or HTML files over 200 KB.
Expanded search criteria for templates
We've made it easier to find what you're searching for in certain areas of the templates experience.
In the template details area:
You can now search the Message type field by ID, message type, and channel.
In an email template, search the From email field by name in addition to email address.
In an SMS template, search the Sender field by Message Service SID or Message Profile ID (found in Settings > Senders) in addition to name.
When you're sending proofs:
When you're sending a proof as random users or to an internal list, you can click the list dropdown and search for a list by list ID and secondary details (like Created date).
The list search field in the Send proof window is no longer case-sensitive, so you can enter your search terms in upper case or lower case and still find your lists!
When you're adding data feeds:
In the Select a data feed dropdown, you can now search for a data feed's alias in addition to the data feed's name.
Deep link field for push templates
The Deep link field now appears in the details area for push templates you've created and updated via Iterable's API. You can edit and delete deep links from a push template's details page.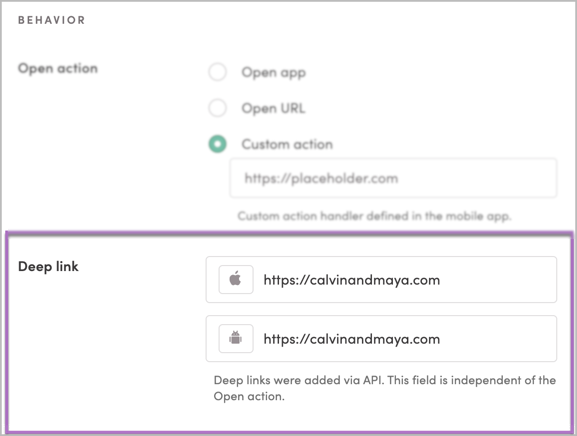 The Deep link field shows in a push template's details area when:
You create or update a push template via Iterable's API and pass in the deep link key, with or without a value.
You had previously created a push template via Iterable's API and passed in the deep link key, with or without a value.
The Deep link field does not show in the details area of a push template when:
You create or update a push template via the API and do not pass in the deep link key.
Improvements to Google analytics and link parameter options
We've improved the appearance and behavior of the Google analytics and Link parameters options in email and in-app templates.
To delete a link parameter, use the new Delete button.
We made the link parameter field longer, so it's easier to edit long values.
When you're viewing the details area in read-only mode, the Google Analytics and link parameter On / Off status indicators no longer stack when the browser window is narrow.
Locales menu updates
We gave the Locales menu a fresh coat of paint! Here's what's new:
We updated the flag icons.
Two-letter language-only locale codes (like en) now show a globe icon instead of a flag, since it's unclear which region/dialect they refer to (for example, English is spoken in multiple countries around the world, including US, AU, and GB).
Two- or four-letter locale codes that include an ISO country code (like US) show a flag icon.
You can now search for a locale in the Locales dropdown.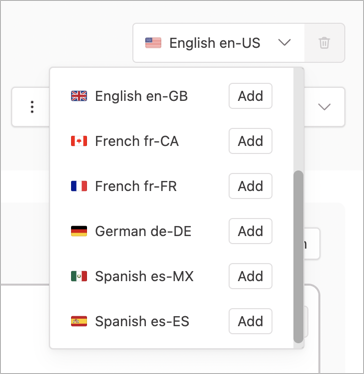 To learn more, check out our new docs on setting up and using locales in your Iterable project.
Improved loading speed for dynamic lists
January 17, 2023
To improve performance, the dynamic list sizes displayed on Iterable's list index page now update once per hour. This change affects the list's displayed size, but not its actual membership—a campaign sent to a dynamic list still goes to all users on that list at send time. To see the real-time list size without waiting for the display to refresh, open the list and click Refresh Results. For more information, check out Static and Dynamic Lists Overview.
Recall In-App Messages
January 10, 2023
Now you can recall an in-app message campaign to prevent your users from seeing it.
Whether you've changed your mind, caught a mistake, or your campaign was so successful it wiped out your inventory, we've got your back!