To better understand how Predictive Goals can be used, let's see how one fictional brand used it to plan and create messaging for an upcoming launch.
In this article
Reimagining the future
The marketing team at Calvin and Maya, a brand for personalized home furnishings, had a great year. They saw significant repeat business, little churn, and lots of new customers. But, while the year was largely successful, they need a more efficient and reliable way to make sure that campaigns support their business goals into the future.
In particular, the C&M team needs help with one of their most important goals for the coming year—retaining existing customers. As part of this effort, they're launching a new loyalty rewards program to keep their best customers loving, and buying, the brand. Knowing which users to reach out to will help C&M promote the personal experiences this valued customer group deserves.
Let's take a look at how the team at Calvin & Maya might use Predictive Goals to identify users for their new program.
Getting started
Minimum requirements met? Check. C&M has a few years of data, lots of customers, and plenty of active custom events and properties (user profile fields), so they have enough data to create a useful predictive goal.
Meaningful data selected? Check. Because many of their most loyal customers bundle purchases by saving items to their carts and often take advantage of promotional offers, the team decides to look for users who may perform those actions in the coming month.
In C&M's project, the AddToCart and PromoRedeemed custom events capture this information, so they'll use these events as goal criteria.
Create a new predictive goal for C&M
Now, let's see how the C&M team creates their first predictive goal:
From the Predictive Goals page, they click New predictive goal.

On the Goal Criteria page, C&M specifies that users must perform either the AddToCart or the PromoRedeemed event at least once, to be considered likely to convert on this goal.

Then, they refine their query a bit further by searching for users who are also likely to have a Premium account type as indicated by a user property AccountType with a Premium value.

They want to find customers who are likely to convert close in time to the prediction results they're reviewing, so they choose a 1 month time period. When Iterable refreshes this predictive goal, the data reflects conversions that are likely to occur one month from the refresh date.

For Predictive goal name, they use "Remain highly engaged" so it's easy to read as the header on the Goal Details page. For Contact property name, they use HighlyEngagedPropensity, so it matches the way they structure other custom user fields.
C&M clicks Create predictive goal. 12–24 hours later, they look in the Iterable app notification center for news that their prediction is ready for review.
Review C&M's prediction
After seeing that their prediction is ready to review, the C&M team selects the newly created predictive goal from the home page and views their prediction on the Goal Details page.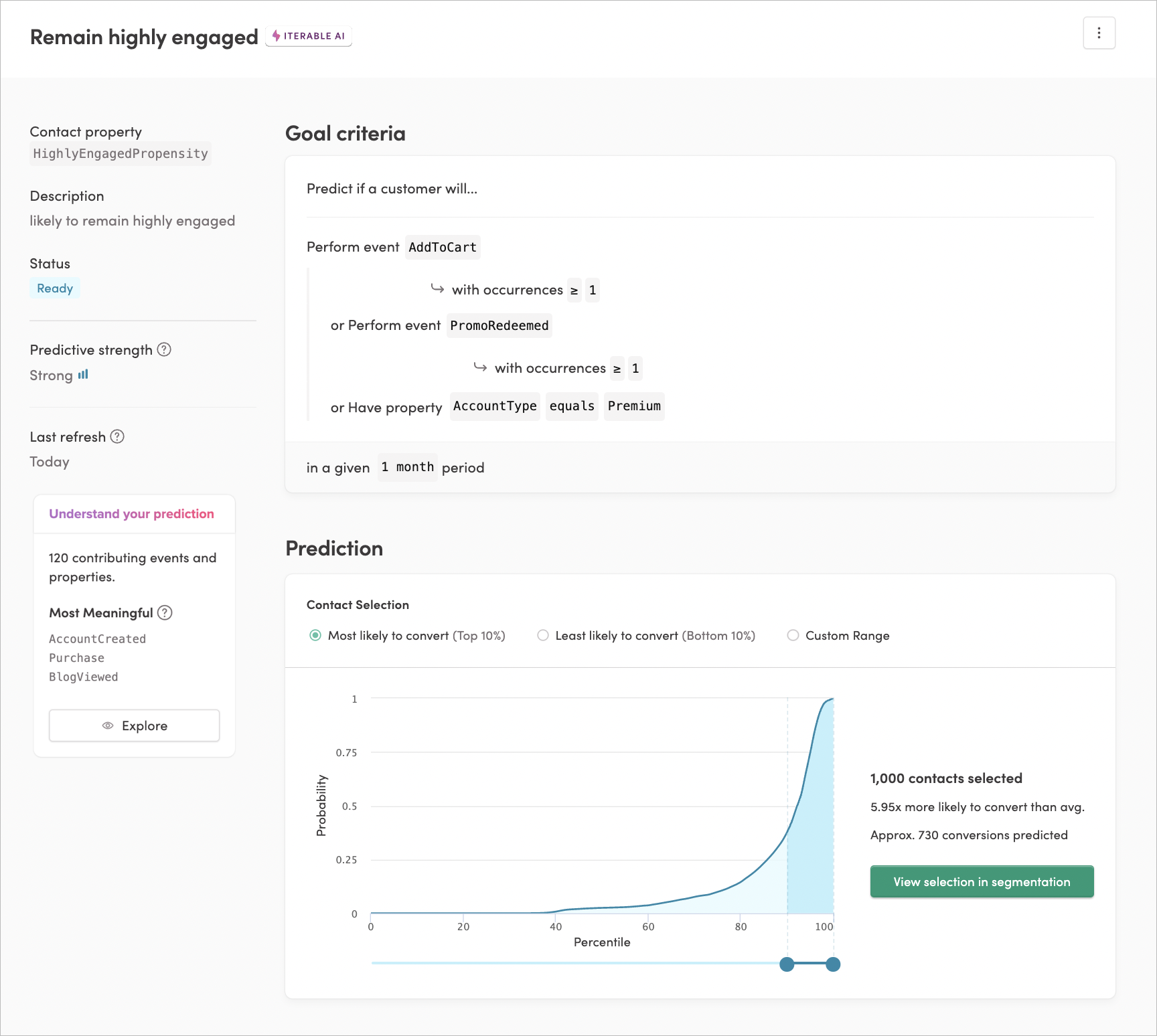 In addition to the information they provided when they created the goal, C&M sees some new information that's really helpful:
Predictive strength - Good news! A Strong value means that C&M's prediction is ready to use. Changing the criteria is unlikely to change the quality of the resulting prediction.

Prediction results - The initial Prediction chart shows the top 50th percentile of users (in this case, 5,000 contacts) are almost twice as likely to remain highly engaged as the average of all users in the project. Based on this prediction, approximately 1.2K existing users are likely to satisfy at least one of C&M's goal criteria in the time specified.

C&M could focus on this group of users for their upcoming rewards campaign, but what if they want to reach smaller groups of users, for a more personalized approach?
Create user segments around the experience you want to deliver
C&M's primary goal is to incentivize their most loyal customers to stay engaged with their brand by enrolling them in a program with rewards they can use immediately. Let's see what happens when they focus on a smaller user segment from the highest probability group (the top 20th percentile of users).
By narrowing their selection to a smaller group of users in a higher probability target, the user segment is now four times more likely to perform at least one of the goal criteria in the specified time than the average population, with an anticipated 980 conversions. This is the ideal audience for their primary goal.
Create additional user segments from the same prediction
But, what about the other users who are less likely than the top 20%, but still more likely than average to convert on this goal? Perhaps C&M would like to incentivize them to become a loyal customer with an "invitation" to join their new rewards program, with highlights about what they can expect if they do. Let's see what happens when they focus on the group of users just below their most loyal customer group.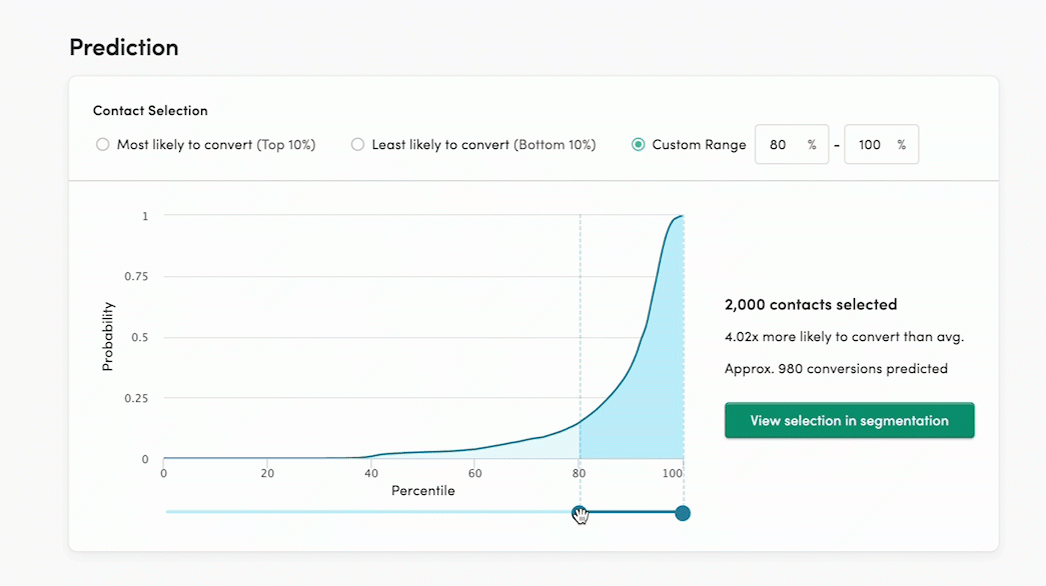 This time, their selection is just .66 times more likely to perform at least one of the goal criteria than the average population, with an anticipated 160 conversions. Because of the significantly lower number of predicted conversions, the team decides to hold off on creating this user segment.
Create a contact list
Now that C&M has settled on the top 20th percentile of users for this segment, they click View selection in segmentation. In the Segmentation window, they review details about the users from their selection by filtering the fields shown in the Results section.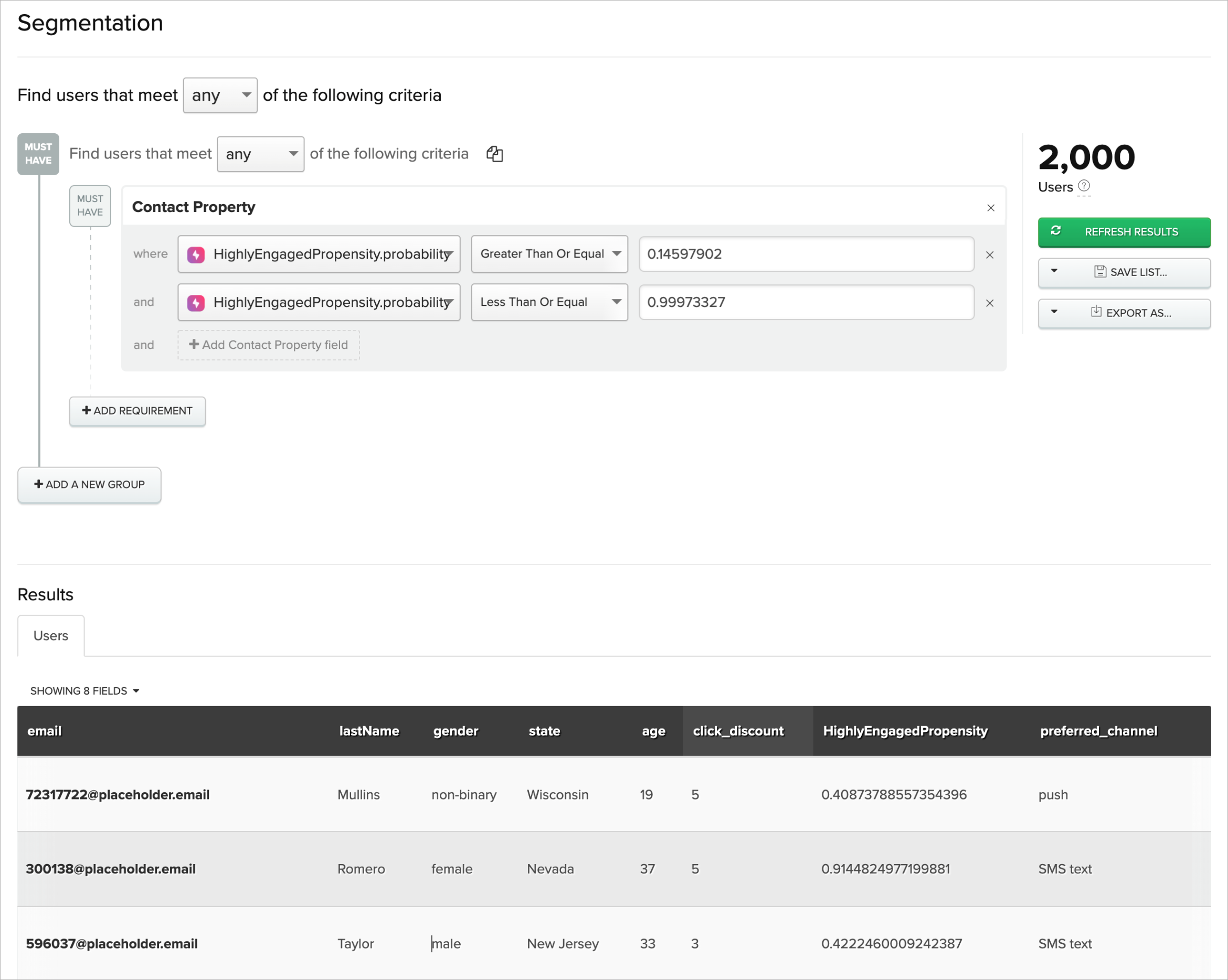 They choose to save the selected segment as a dynamic list so they can use it in the triggered campaigns they'll send to support their new loyalty rewards program. Campaigns will go to all of the contacts who match the segmentation query at send time.
Next steps
Now that C&M has the audience for their upcoming campaign squarely in sight, it's time to create the campaign they want to send to this hand-picked group of fantastic customers. At a high level, C&M might:
Create a campaign and then view performance data. See Campaigns Overview.

Create a journey that welcomes customers to the new loyalty rewards program for the user segment they selected. See Journeys Overview.

Review the events and properties that contributed to the prediction and identify which ones should be encouraged among users to increase goal conversion rates. See Review Explainable AI prediction insights.
Want to learn more?
Curious about what it takes to build a successful rewards program like the one C&M is working on? Get some ideas from Unboxing Must-Have Marketing Campaigns: Loyalty and Rewards.