Every user stored in your Iterable project has a profile, which provides a complete view of the information you know about them:
Properties that describe preferences and demographic information
Events related to the messages you've sent them and their interactions with those messages
Custom events associated with actions they've taken on your website or in your mobile apps
Subscription preferences
Their current Brand Affinity™ label, a value generated by Iterable AI to indicate how likely they are to engage with your brand.
These fields updates as you send information to Iterable and users engage with messages you send them.
Table of contents
Permissions
To view the User Profile page in Iterable, your role in Iterable must include the User Profiles & Data > View permission.
Viewing a user profile
To view a user's profile, navigate to Audience > Contact Lookup, enter their email address, and click Search Users:
Information found on a user profile
The heading of the user profile screen displays the user's email address and current Brand Affinity label. It also displays a profile photo and social links (if they're available from FullContact).
Below the heading, there are various tabs that display more information, as described below.
Available User Fields tab
This tab displays the various properties saved in Iterable for the current user (whether saved automatically by Iterable or explicitly when you're importing or updating users).
TIP
You can store all sorts of interesting kinds information on a user's profile: text, numbers, dates, arrays (lists), objects, booleans (true/false), or location. For more information, read Field Data Types.
A few interesting user profile fields include:
signupSource - How the user was added to the Iterable project
signupDate - The date on which the user was added to the Iterable project
profileUpdatedAt - The last time the user's Iterable profile was modified
subscribedMessageTypeIds and unsubscribedMessageTypeIds - Opt-in and opt-out message types to which the user has subscribed or unsubscribed.
unsubscribedMessageTypeIds - The opt-out message types to which
Event History tab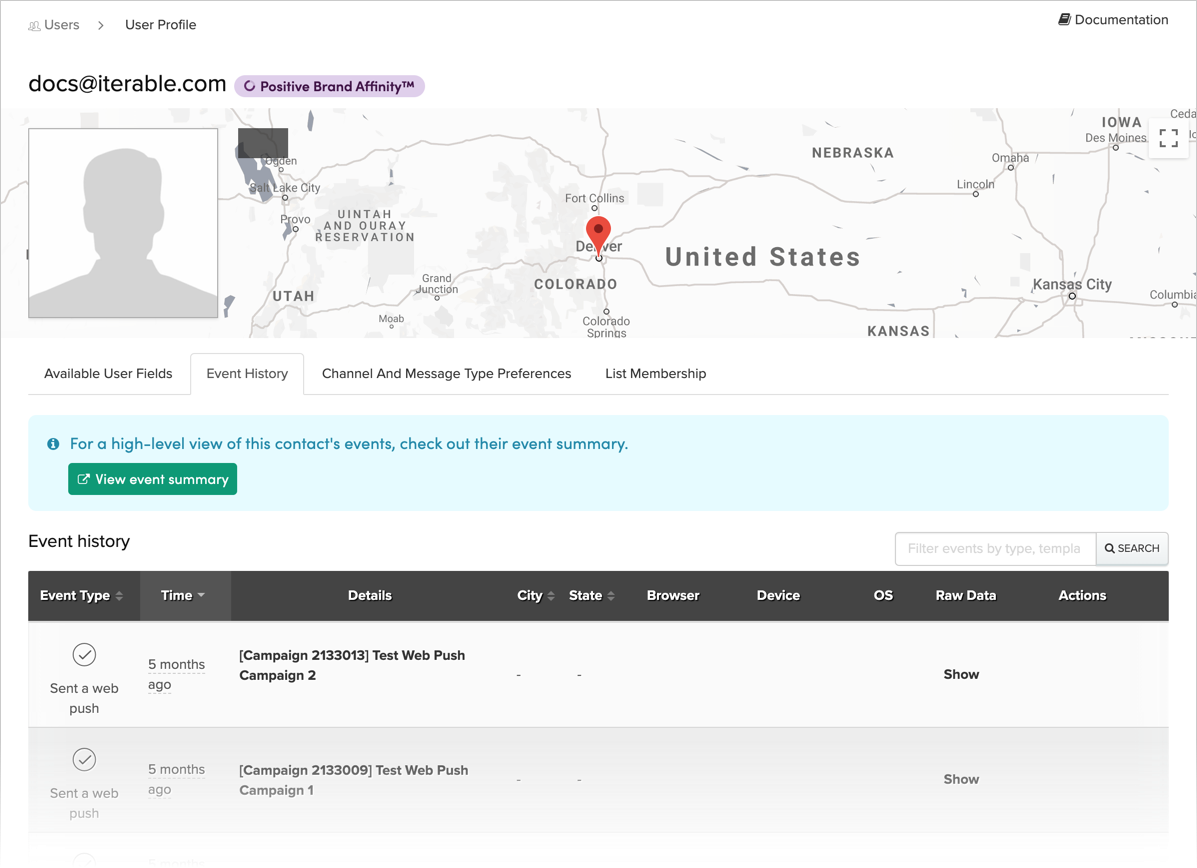 This tab provides details about system and custom events that Iterable has saved for the user profile you're examining.
User event history summary
From the Event History tab, you can also see a high-level summary of the user's event data. You might use this summary, for example, to answer questions about how many times you've messaged the contact in a given period of time, and on what mediums. To see the summary, click View event summary.
On the summary view, after selecting events and a date range, you'll see a table and visualization that display events recorded for this user, for the chosen events and date range.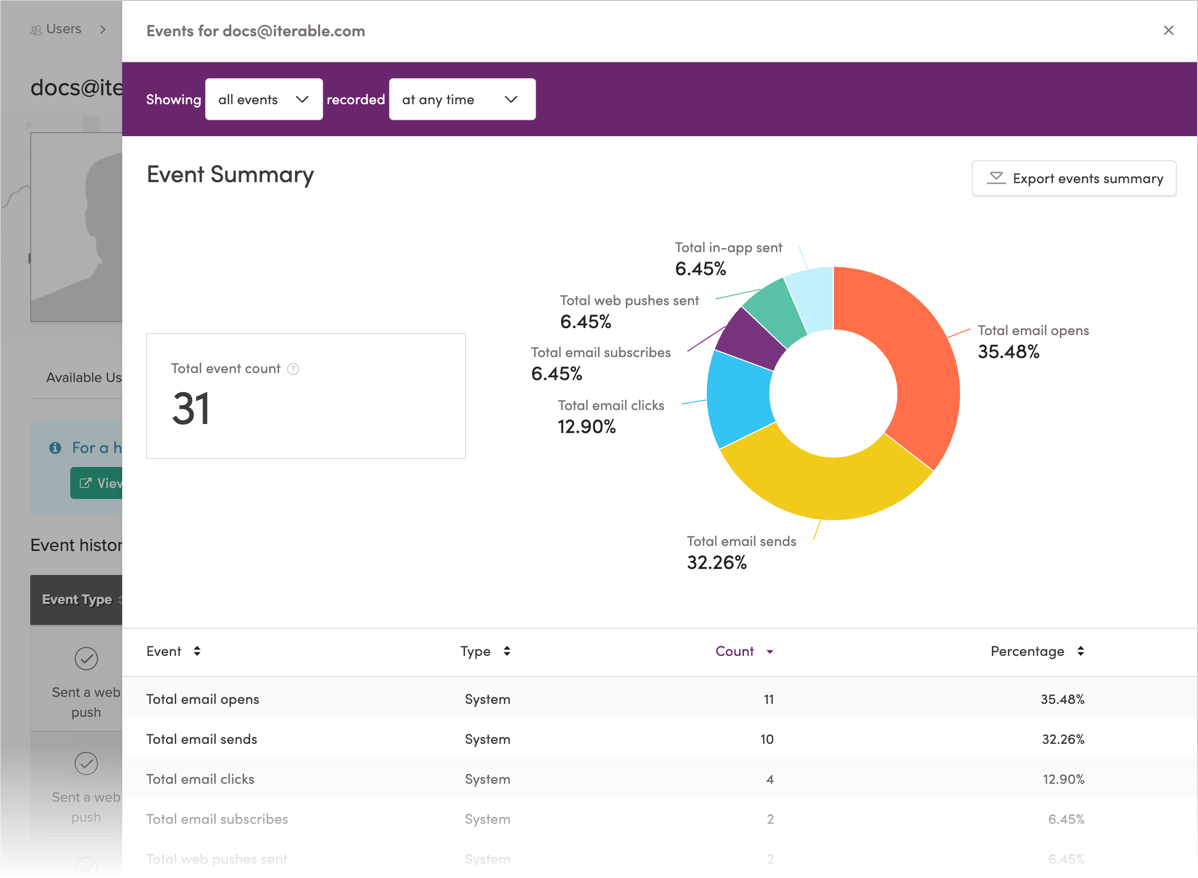 NOTE
In the drop-down menu, you can only select events that already exist for the user you're viewing. If the user has never received a particular event, it won't show up in the menu.
Use the table and visualization to answer questions about what kinds of messages you've sent the user, whether or not they've responded, and whether they seem to prefer specific message mediums. Then, make informed decisions about how (and whether) to message them in the future.
To export your query's results as a CSV file, click Export events summary.
Channel Preferences tab
This tab lists your project's message channels, and an indication as to whether or not they're enabled for the current user (along with a toggle to change this selection).
List Membership tab
Displays the static and internal lists to which the user belongs.
To add a user to another list, click Add User to Existing List and choose the list. To use this screen to remove a user from a list, hover over the list and click the X that appears.