Iterable's template builder supports locales, which users can receive your content in their native languages.
TIP
When a campaign sends multiple locales of a given template, they'll all be associated with the same campaign ID.
Enabling locales in your project
To start using locales:
In Iterable, navigate to Settings > Project Settings.

Find the Add new locale button:

Add the locales you need. Called them whatever you like, as long as they match the values on your user profiles. An easy best practice is to use the two-letter ISO language codes (for example, en for English, fr for French, de for German, and es for Spanish).
Using locales on templates
Once you've enabled locales in project settings, templates you create or edit in that project will have a locales dropdown menu that displays which locales are available, and which ones you've configured.
To add another locale to a template, open its locales menu and click Add next to the locale you'd like to set up.
Then, to edit a template's content for a particular locale, just select it and edit the template as you normally would.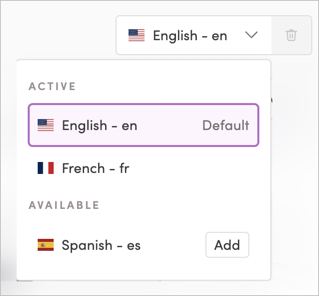 Iterable does not translate your templates for you. You'll need to input the template content for each language. Also, remember to always save your work each time you change the content for a locale.
When sending a campaign, Iterable sends the locale content appropriate to each user, based on the locale field found on their user profile. If a given user doesn't have this field, they'll receive the default template. If they have a locale, but it's not supported by your template, they'll be excluded from the send.
NOTE
To send the default locale to users with an unsupported locale value, use the Locale overrides settings in Settings > Project Settings (available when locales have been specified). You can update theses overrides separately for marketing and transactional messages.
Locales in experiments
Experiment variations have locales. Experiments will use the appropriate locale of a winning variation when sending it to your users.
Locales in journeys
The locales feature eliminates the need to filter users by location or language in your journeys since they'll receive versions of the same campaign (and same campaign ID).
Analytics
When reviewing your individual campaign details and metrics, you'll be able to see how many locales that campaign was sent to. And you'll also be able to see how many locales a particular template has associated with it.