Gmail as a service has over 1.5 billion users. These users can represent a large portion of a B2C sender's audience. To monitor your performance with this audience, Iterable's deliverability experts highly recommend using Google's Postmaster Tools. This free resource provides dashboards covering important data points and trends to help you maximize your inbox performance.
Continue reading to learn how to set up and use Google Postmaster Tools.
In this article
Set up Google Postmaster Tools
To set up Google Postmaster Tools, you need:
A Google account.
Access to edit DNS records for your sending domain(s).
IMPORTANT
Create a new Google account for your team to share. If you don't, your whole team could lose access when the associated account is closed (usually when someone leaves the company).
To set up Google Postmaster Tools:
Add your domain to Google Postmaster Tools.
Add a TXT record to your domain's DNS (as provided by Google).
Verify your domain with Google Postmaster Tools.
Repeat steps 1-3 to add more sending domains as needed.

TIP

If you create the TXT record at your root domain (such as example.com) and verify that domain in DNS you can add any subdomain of your root domain (such as subdomain.example.com) in Postmaster Tools without any additional DNS records needed.

Provide read-only access to your team. Make sure to tell them you've given them access—Google doesn't send a notification to new viewers.
For comprehensive instructions, read Get started with Postmaster Tools (Google).
Dashboards
When you access Postmaster tools, you can expect to see these data reports:
Spam rate
This dashboard shows the percentage of user-reported spam compared to all emails sent to the inboxes for active users.
Things to know:
This metric only counts emails authenticated by DKIM.
Emails delivered directly to the spam folder by a filter aren't included in the spam rate calculation. Only user-reported spam is included here.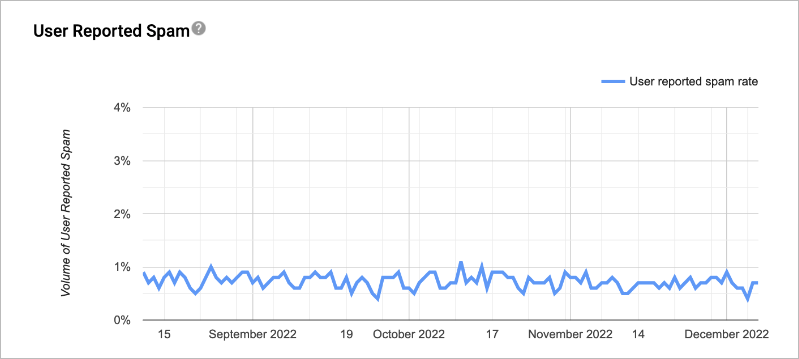 IP and domain reputations
Domain and IP reputations give a sense of whether Google's spam filter might classify emails from that domain or IP address as spam or not. Reputation isn't the only factor that a filter considers when determining inbox placement, but reputation is a helpful indicator of overall performance.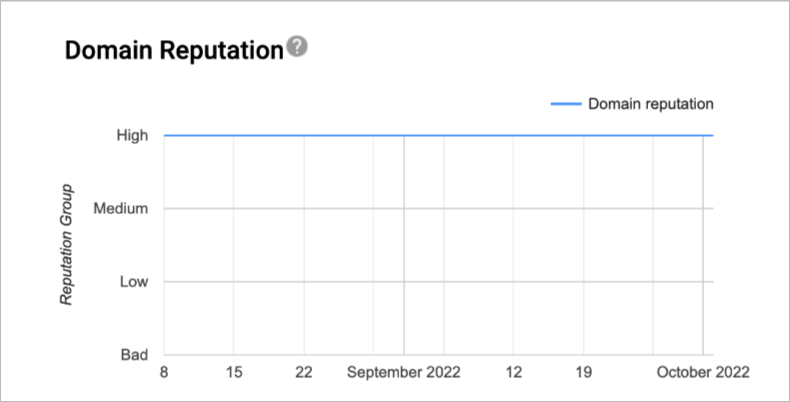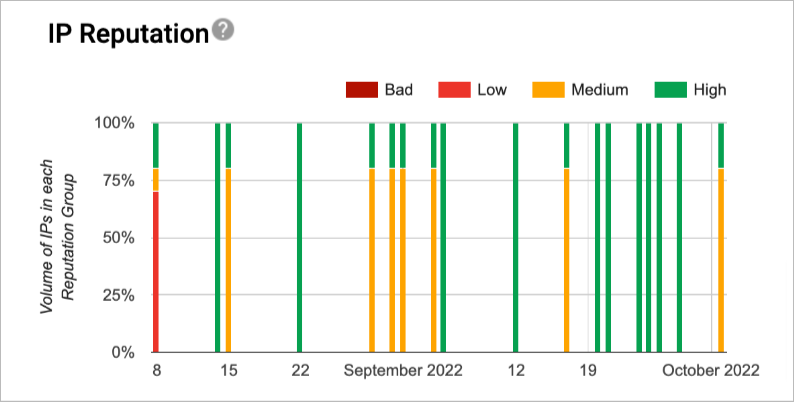 To see an up-to-date list of Google's reputation classifications, read Get started with Postmaster Tools (Google).
Feedback loop
When there is a high enough spam rate to trigger a data point, this dashboard reflects some granular identifiers like campaign ID, project ID, or IP address.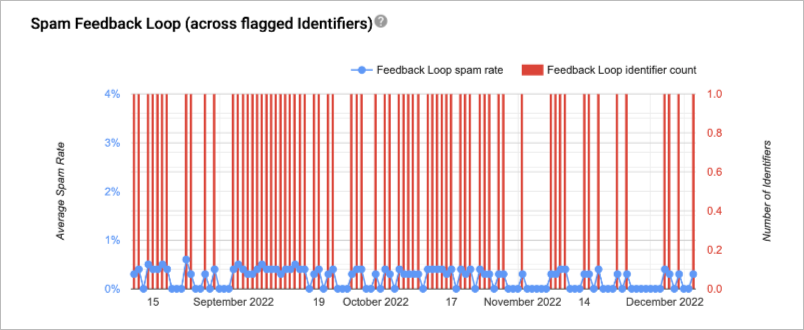 Authentication
This dashboards shows the percentage of SPF, DKIM, and DMARC authentication that's passing inbound to Gmail.
This report only reflects aggregate percentages. DMARC-specific reporting would need to be set up outside of Google Postmaster Tools to get more details.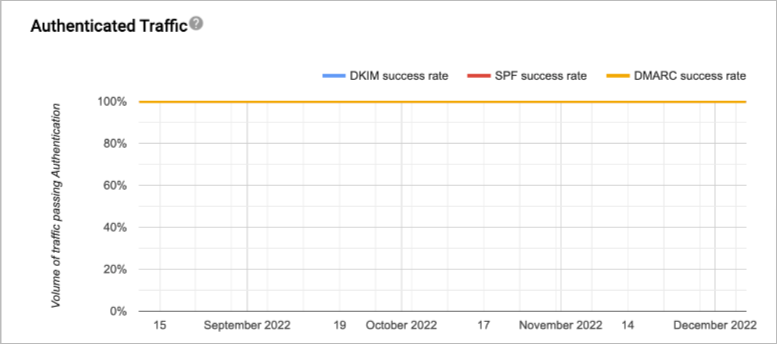 Encryption
This dashboard shows what percentage of inbound and outbound traffic is TLS encrypted. Postmaster Tools only provides an aggregate percentage in this report. It should be at 100% when you're sending from Iterable.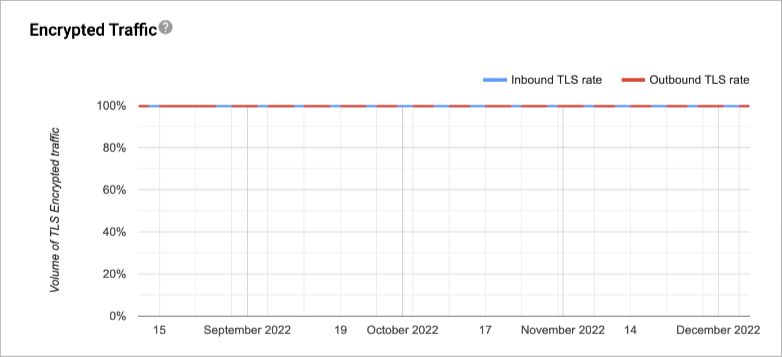 Delivery errors
If Google rejects any traffic on a given day, this dashboard shows the percentage of rejected messages and a high level reason for the rejections.
To see all possible reason codes, read Delivery errors (Google).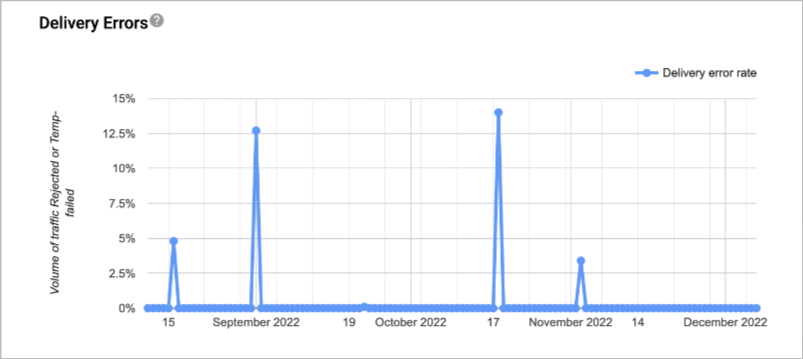 Locating your Gmail audience
B2C Gmail users have an address with gmail.com and googlemail.com domains. This is helpful to identify the cohort of Gmail users in your list.
To view the engagement metrics for this group, use the Audience tab in Messaging Insights to find users by their domain.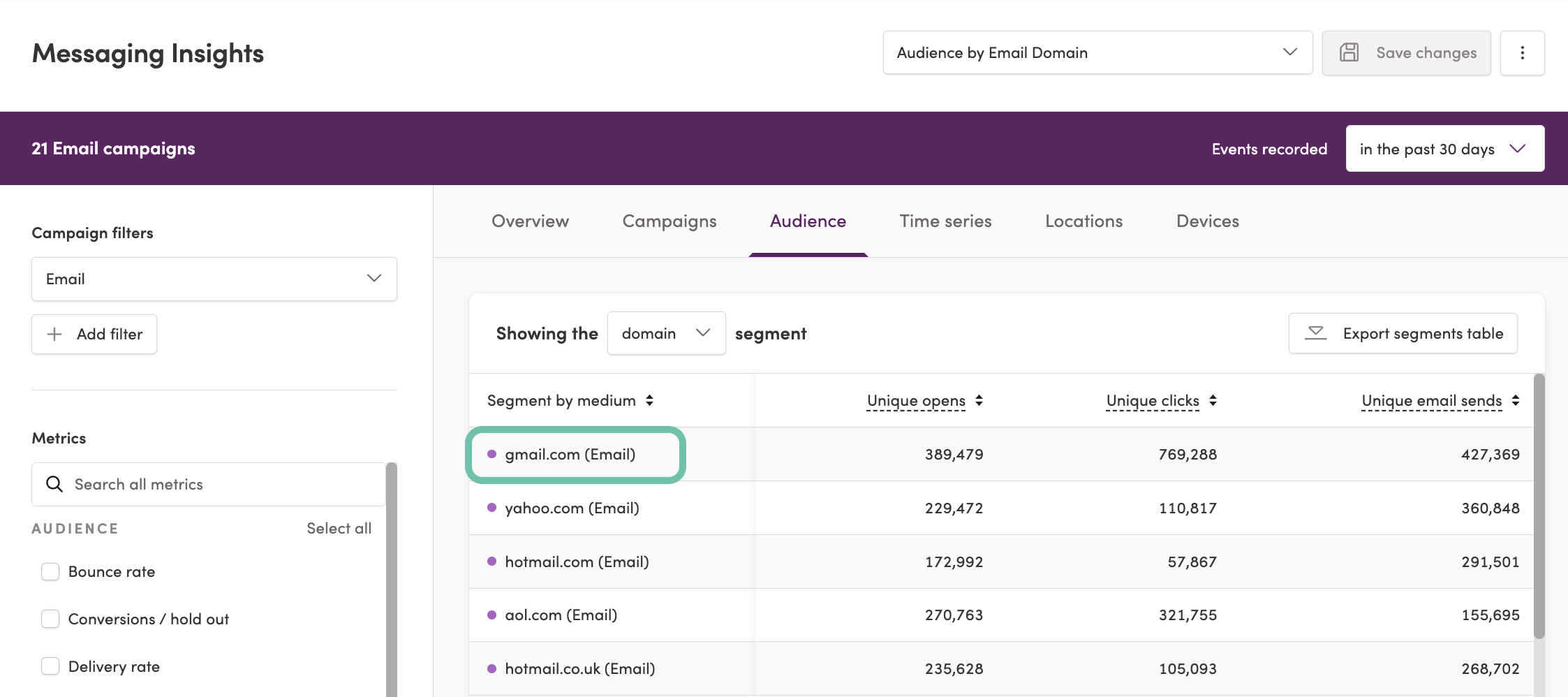 To earn more about this report, read Messaging Insights.
To create a segment of these users, go to Audience > Segmentation.
Find users that meet any of the following criteria:
Must have Contact Property where Email Domain equals gmail.com
Or Contact Property where Email Domain equals googlemail.com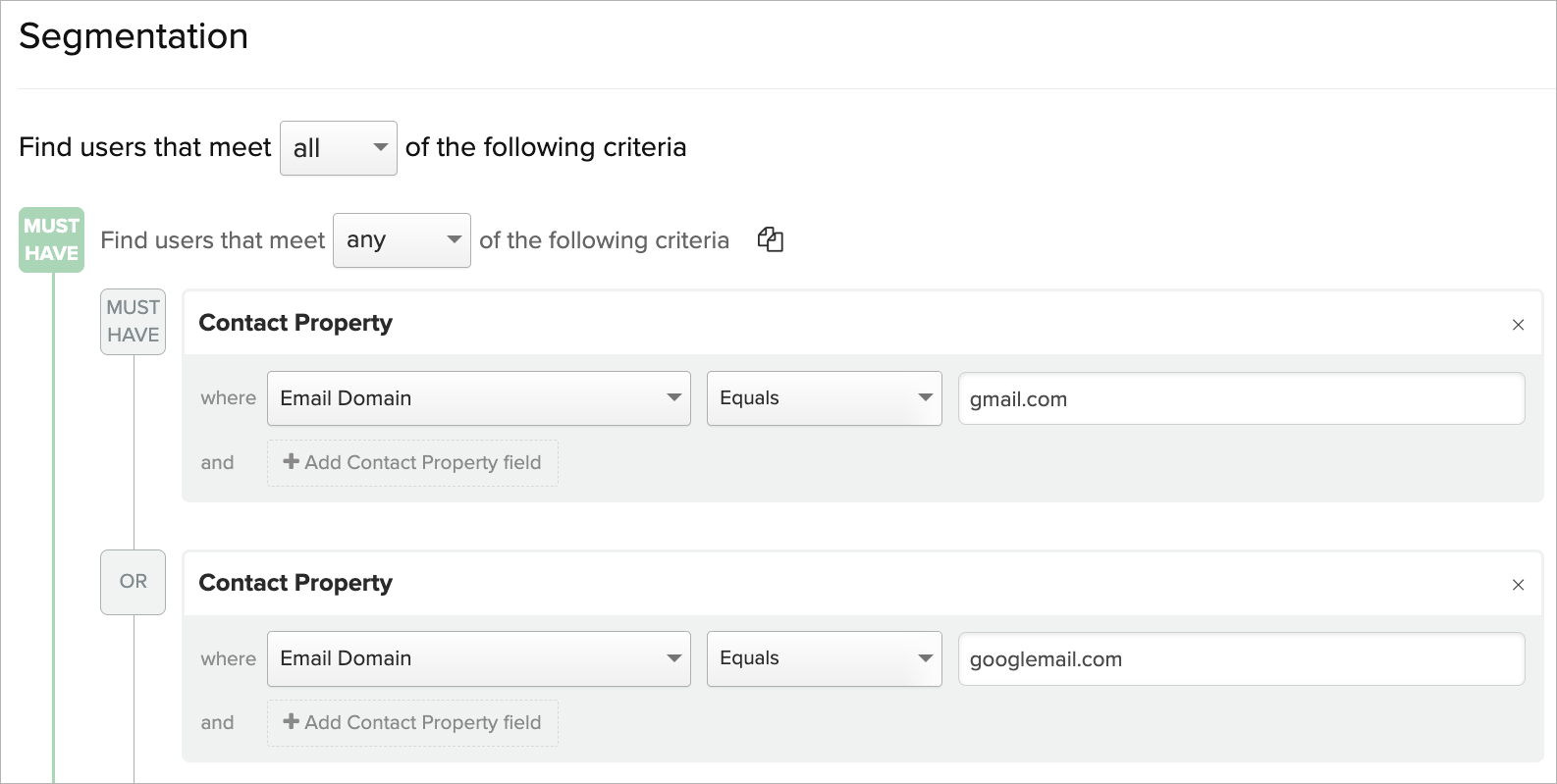 To create a segment and save a dynamic list of these users, use Iterable's segmentation tool.
Frequently Asked Questions
Is there any PII in Postmaster Tools?
No. Google is very careful with data about their users that could be viewed as a privacy concern. Postmaster Tools only provides aggregate statistics which you can view after you've verified ownership with a DNS record.
How much volume is necessary to start seeing Google Postmaster Tools reporting on?
Your domain must send at least 250 messages to Gmail users to generate metrics for each day.
How far back does the data go?
Postmaster Tools limits data to the past 120 days.
Are Gmail users who make spam complaints automatically unsubscribed?
Gmail has a nontraditional feedback loop that provides anonymous spam complaint information. Because Iterable doesn't receive enough information to identify the users who have reported spam, Gmail users:
Do not have spam complaint events in their event history.
Are not auto-unsubscribed via Iterable when they report a message as spam.
This is a general practice for Google, to protect user privacy. This isn't a limitation specific to using Iterable.
To avoid spam complaints from Gmail users, it's important to follow best practices. To learn more about Iterable's recommendations, read Maximizing Email Deliverability.
More questions
For answers to more questions not covered here, read Postmaster Tools FAQs (Google).