Welcome to the brand-new templates experience in Iterable!
We've completely revamped the template experience with this update. Everything from how the template page looks to the way you edit details, design content, and preview your work has been rebuilt from the ground up.
This article provides an overview of the new template experience. We can't wait to hear what you think!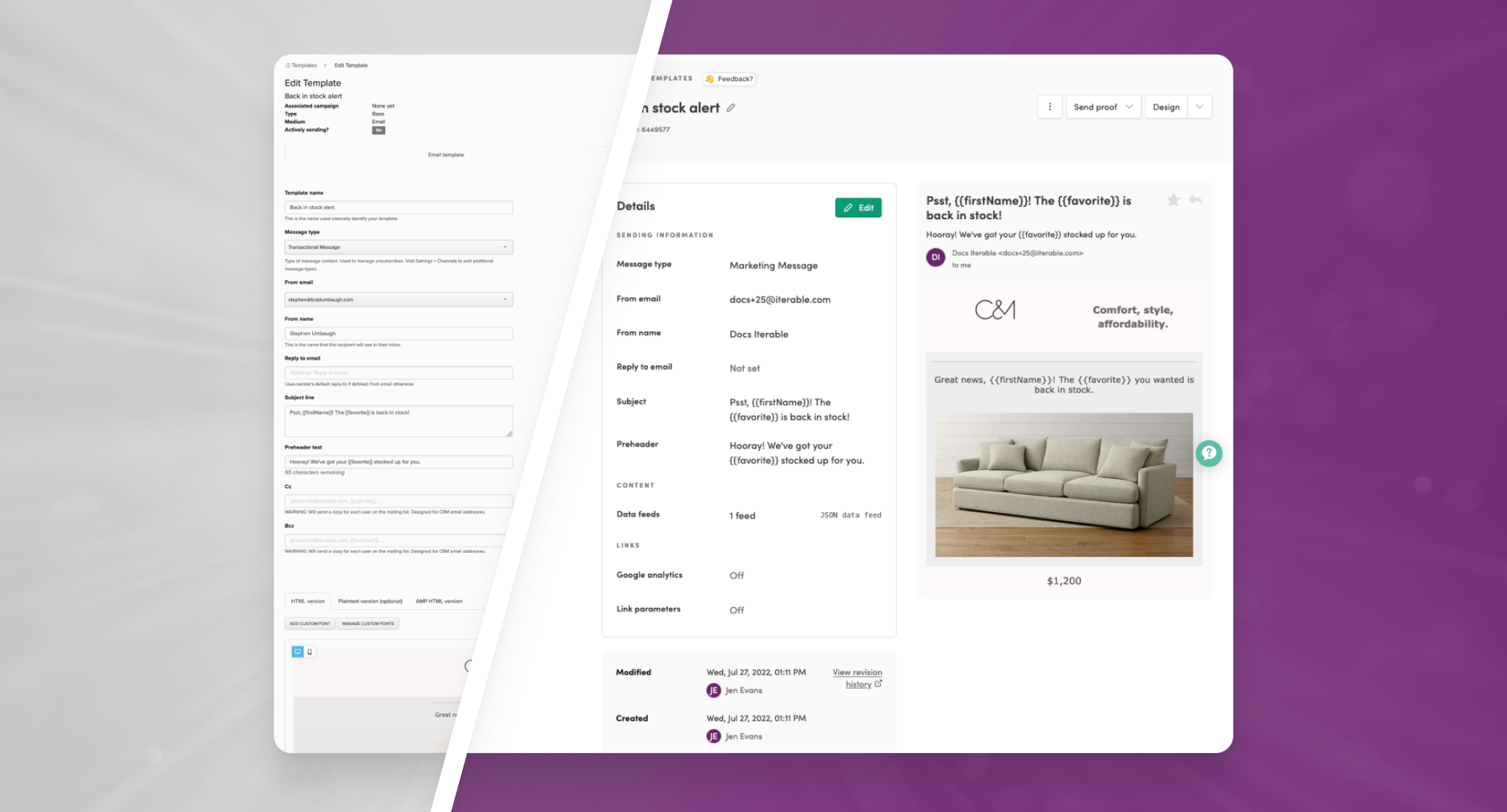 Your template experience, enhanced
Templates revamped — We've redesigned the template experience, enabling a more flexible workflow. Create your template content in any order you'd like-save some details or all, work on the design a bit, check out your preview, then come back to details.

View-only mode — A read-only mode for details means you can work on a template's design and see its settings without changing them.

Consolidated options — We've combined the template and advanced options tabs into one Details section, making it easier to find what you're looking for.

Faster, accurate previewing — Enhanced previewers help you visualize final messages and personalize your templates with dynamic content. Easily toggle between design and preview for faster editing.

New WYSIWYG editor — Choosing the right editor for the right content is now simpler than ever. We've updated the WYSIWYG editor to give you the same rich text editing functionality with more power, making uploading, copying and pasting content, and tweaking HTML even easier.
All your message details, in one place
We've consolidated all message fields into a single, organized Details form, allowing you to make quick edits to your campaigns. In addition, this form also shows information about who last edited the template, and has a read-only mode to prevent accidental edits.
Focus on what matters with Design mode
Your design and previewing workflow just got more intentional. We're introducing a focused design mode, which allows you to make edits to your template, details, and design all in one window.
Quickly toggle between design and preview to see your changes live. Edit details like subject, preheader, data feeds and more within design mode, then send yourself or others a proof right from the focus design mode window.
Say goodbye to multiple tabs and focus-switching. With design mode, you can do all your template work in one place.
Improved and flexible editor options
We've updated the WYSIWYG Editor, giving it improved functionality such as the ability to paste content from apps like Microsoft Word and Excel.

Now, you'll select an editor right before you enter design mode, rather than when you first create the template. You're not locked into a template editor before you're ready to create its content.

New functionality lets you choose between all three editors, instead of just two. (If you want, you can still disable the WYSIWYG Editor in project settings). In addition, we've added flexibility in toggling between editors.
IMPORTANT
The new WYSIWYG Editor can alter your HTML, closing open tags and editing invalid ones. These changes occur when you create or edit a template in the new WYSIWYG Editor, and can impact custom code on previously created templates when you open them.
If you've added custom HTML to your templates (for example, with snippets or HTML blocks), run complete, end-to-end tests as you update to the new version of the editor, since you may need to edit your templates.
If you don't want any HTML to be changed by the editor, we recommend using the Side by Side editor for advanced HTML editing.
Enhanced previewer
The template previewer shows your full message, has more accurate character truncation, and allows you to toggle between device configurations.
Enhanced metadata
For campaign content, we've added metadata about campaign status, experiment variants, locales, and more.

Improved multi-language management
Adding, switching, and deleting locales from your templates or campaign content is clear and simple. More enhancements coming soon—see What's Next!

Dynamically insert snippets
Fields that are snippet-friendly now show an icon you can click to open a snippet selection window. From here, you can preview your snippets insert them into a field.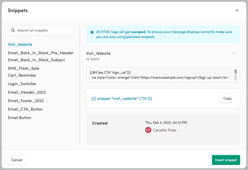 New names
With this update, we've updated some names and relocated a few things. For help tracking the changes, check out this table:
| Original component | New component name | Notes | Template medium |
| --- | --- | --- | --- |
| Template name | | The template name is now at the top of the page, editable by clicking in and out of the field. | All |
| Template tab | | The template tab fields are now part of the Details area. | All |
| Advanced options tab | | The advanced options tab fields are now part of the Details area. | All |
| Clone template | Save as new template | This is now available in the overflow menu at the top of the page. | All |
| Send proof / test message | | This is now a dropdown menu at the top of the page. | All |
| Preview with data | Preview | Access at the top of the page. For editor mediums, find in the dropdown beside the Design button, or while in Design mode. | All |
| Enable template generation using data feeds | Data feeds | | All |
| Export html | | This is now available in the overflow menu at the top of the page. | Email |
| Spam report | | This is now available in the overflow menu at the top of the page. | Email |
| Convert CSS styles from the head element into inline style attributes | Convert CSS | This setting is enabled by default, if you want to disable it, the setting can be found in the Preferences of Design mode. | Email |
| Custom fonts (Drag and Drop) | Preferences | Located in Design > Preferences when using the Drag and Drop editor. | Email |
| Subject line | Subject | | Email |
| Preheader text | Preheader | | Email |
| Cc, Bcc | | These fields are now nested below the Reply to email field, available when you edit the details. | Email |
| From number | Sender | | SMS |
| Image URL | Media URL | | SMS |
| SMS message | Message | | SMS |
| Expert mode toggle | | The expert mode settings are now part of the Details area. | Push |
| Push message (required) | Body | | Push |
| Rich push? toggle | | Settings incorporated into the Details options. | Push |
| Rich media URL | Media URL | Android and iOS inputs consolidated in the Details options. | Push |
| Button text | Add action button | These settings are now nested below the add action button when you click it. | Push |
| Wake app? | Wake up | | Push |
| Custom metadata | Raw data (JSON) | | Push |
| Notification title | Title | | Web Push |
| Notification body | Body | | Web Push |
| Click action | Click location | | Web Push |
| Display type | Position | This area is now under the Behavior heading in Details. | In-App |
| Show in inbox? | Show in mobile inbox | | In-App |
| Use preset animations to show and hide the message | Preset animations | | In-App |
| Display a background overlay | Background overlay | | In-App |
| Custom payload (optional) | Raw data (JSON) | | In-App |
What's next?
This is just the start! We're working on the these updates:
Detailed error and content validation messaging.

Preview with devices and spam report integration into Preview mode.

Enhanced WYSIWYG functionality to help check spelling, links, and accessibility.

Further improvements to multi-language template management with flexible locale configuration, defaults, and revision history.