Studio makes it easy for you to build, edit, and publish joyful customer journeys. Whether you're just getting started or you're already a journey-building pro, here's how to get the most out of Studio.
In this article
Required permissions
Building a new journey
When you create a new journey, it will open in Draft mode. In this view, you can add and edit tiles, test things out, and save your work without worrying about adding any users to the journey before you're ready.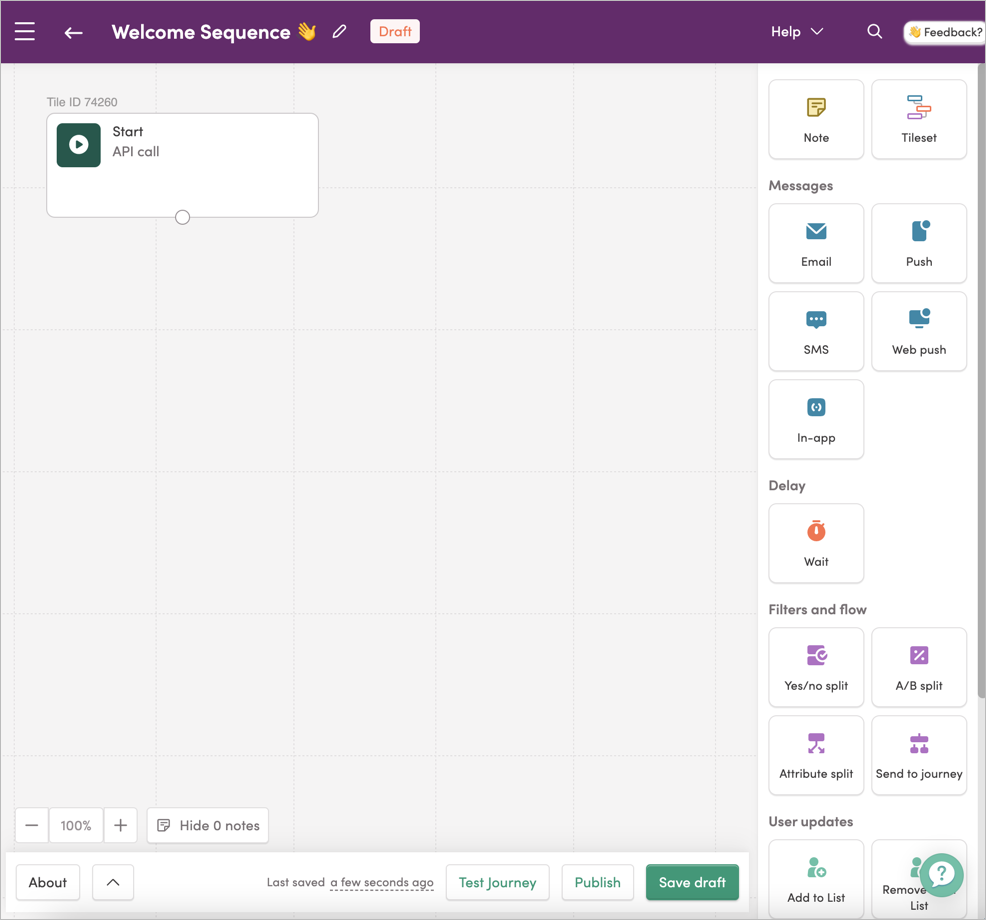 Adding and deleting tiles
To add a tile to your journey, grab a tile from the panel and drag it onto the canvas.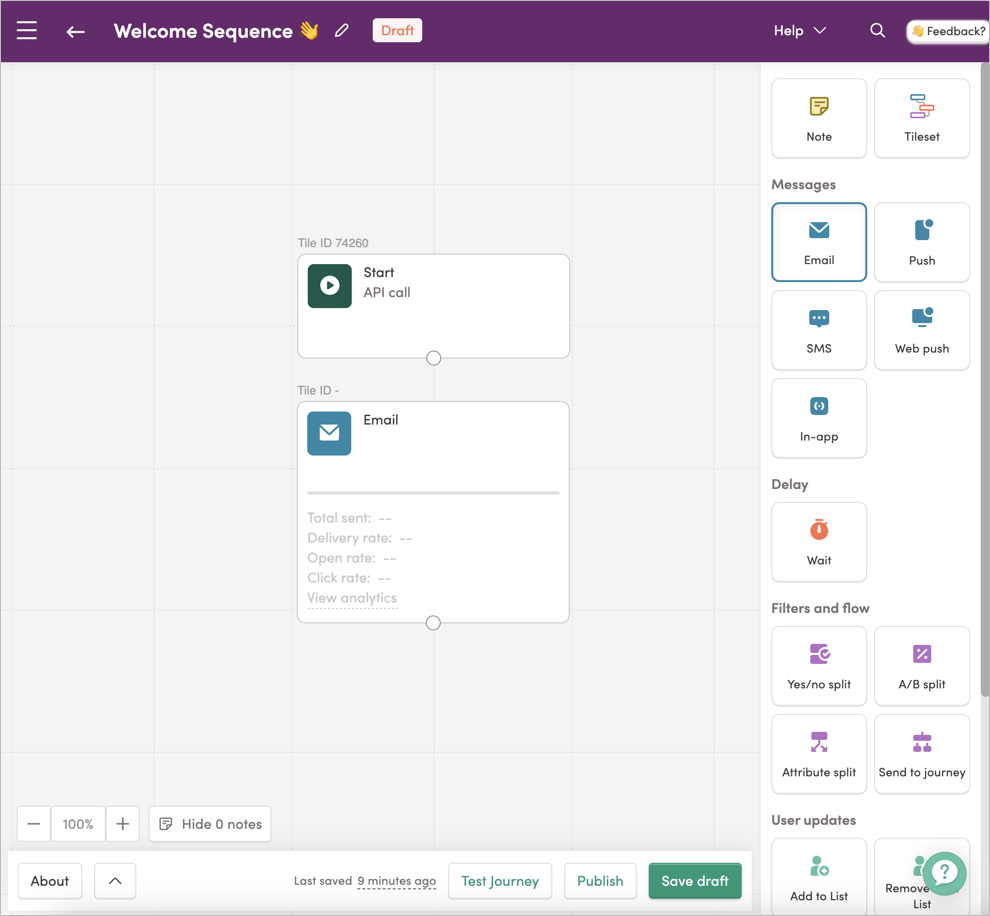 To delete a tile, hover over it on the canvas and click the trash can icon.
Selecting and moving tiles
Click a tile on the canvas to select it. A black bar will appear around the tile when it is selected.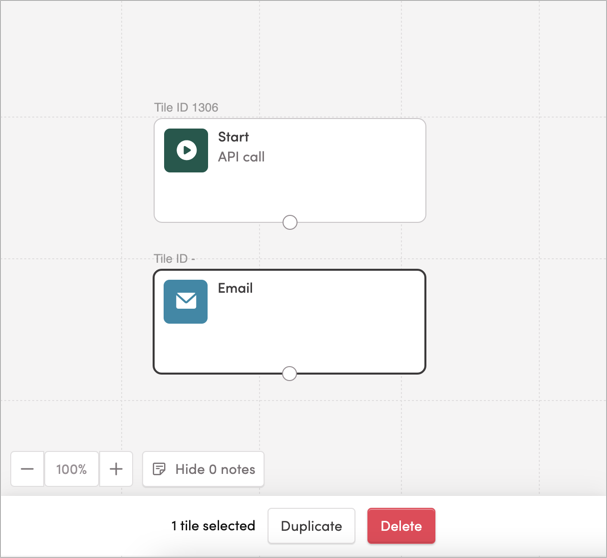 Hold Shift and click to select multiple tiles.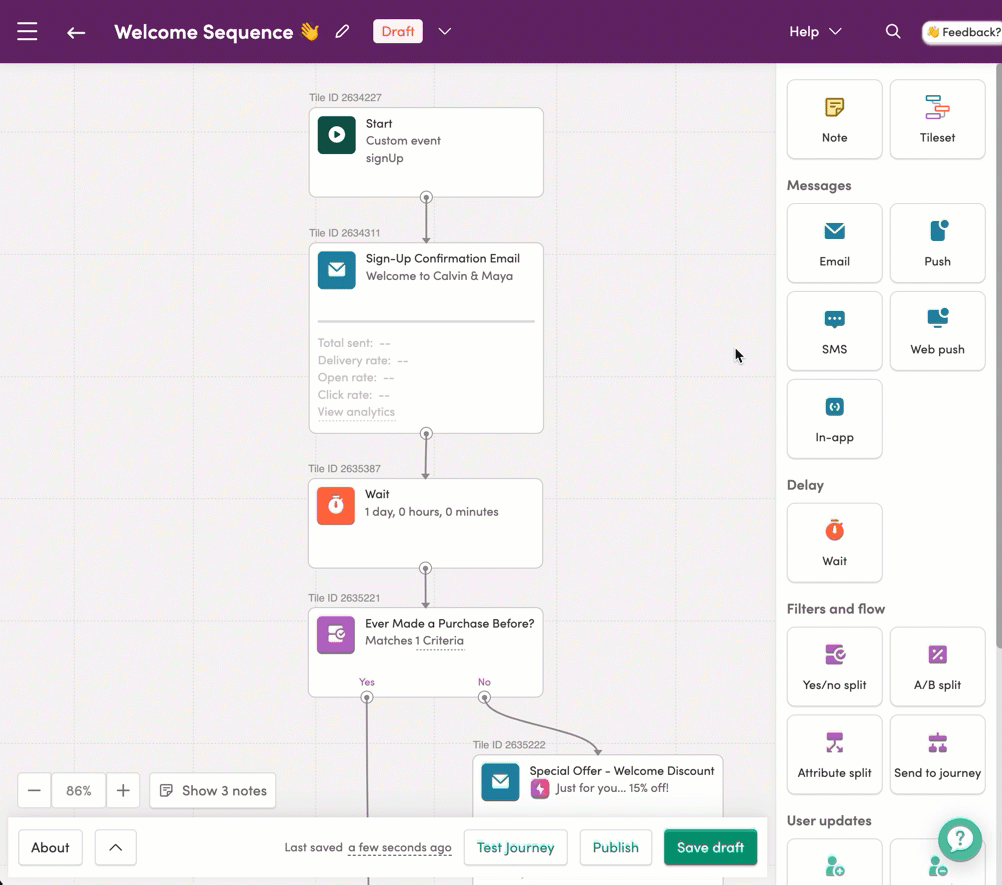 Or hold Shift and use your mouse to draw a square around the group of tiles you want to select.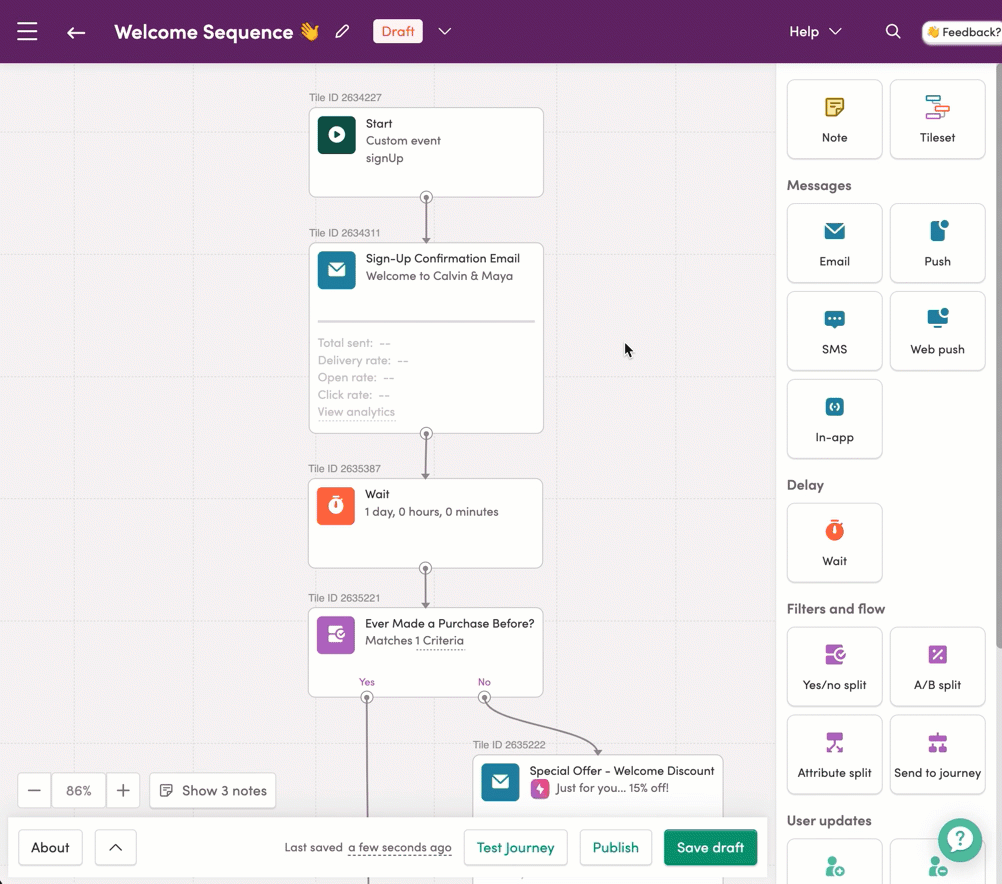 Click and drag a tile (or group of tiles) to move it around on the canvas.
Editing tiles
After you've dragged a tile onto the canvas, double-click it to open the tile settings menu.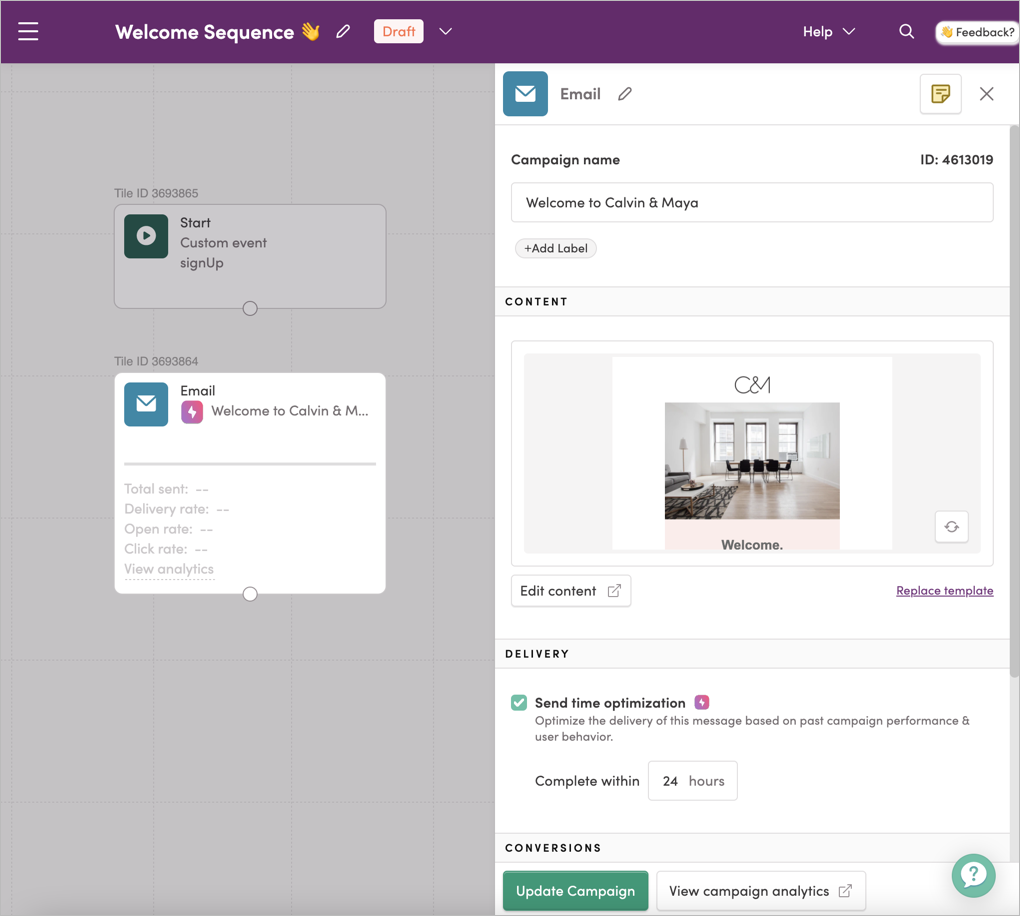 When you've finished editing the tile settings, click Update to save your changes.
Copying tiles
Select a tile or group of tiles and click Duplicate to make a copy. Or use Ctrl/Cmd + C and Ctrl/Cmd + V to copy/paste your selection on the canvas.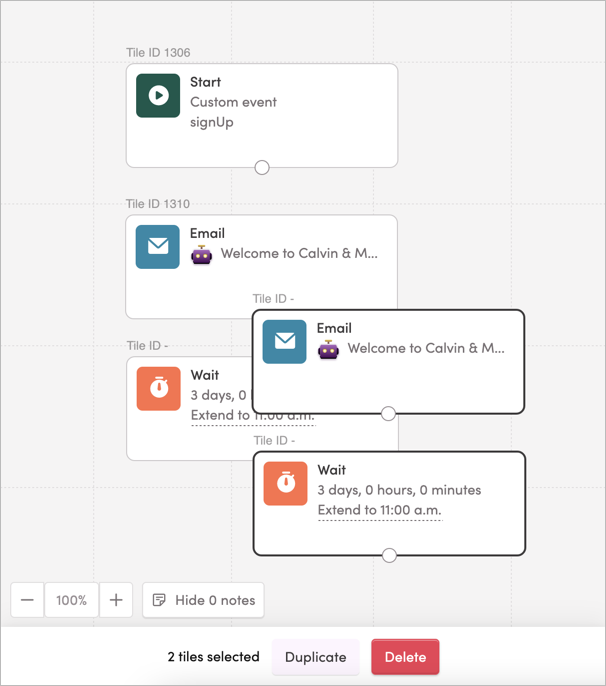 Connecting and disconnecting tiles
Connecting two tiles creates a path between them. Any users that go through the journey will travel from one connected tile to the next.
To connect two tiles in a journey, drag a line between their connection points.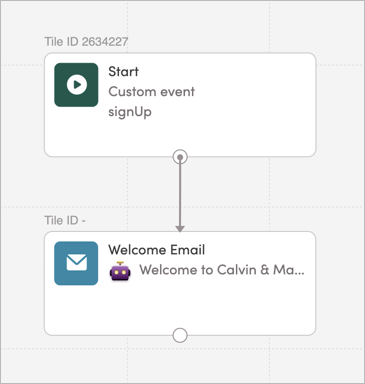 To remove a connection between two tiles, hover over the connection line and click the trash can icon.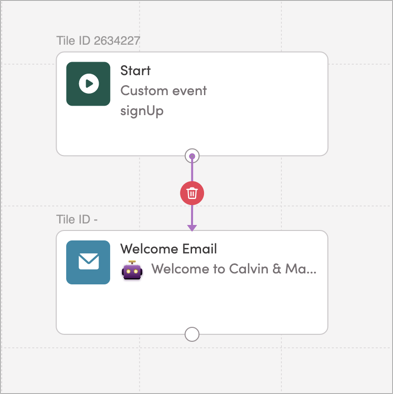 Adding a tileset
Got a group of tiles you add to journeys all the time? Save them as a tileset!
Tilesets are groups of tiles that you can save and reuse in multiple journeys—so you can spend less time repeating yourself and more time building delightful customer experiences.
To create a tileset, select a group of tiles on the canvas and click Create tileset.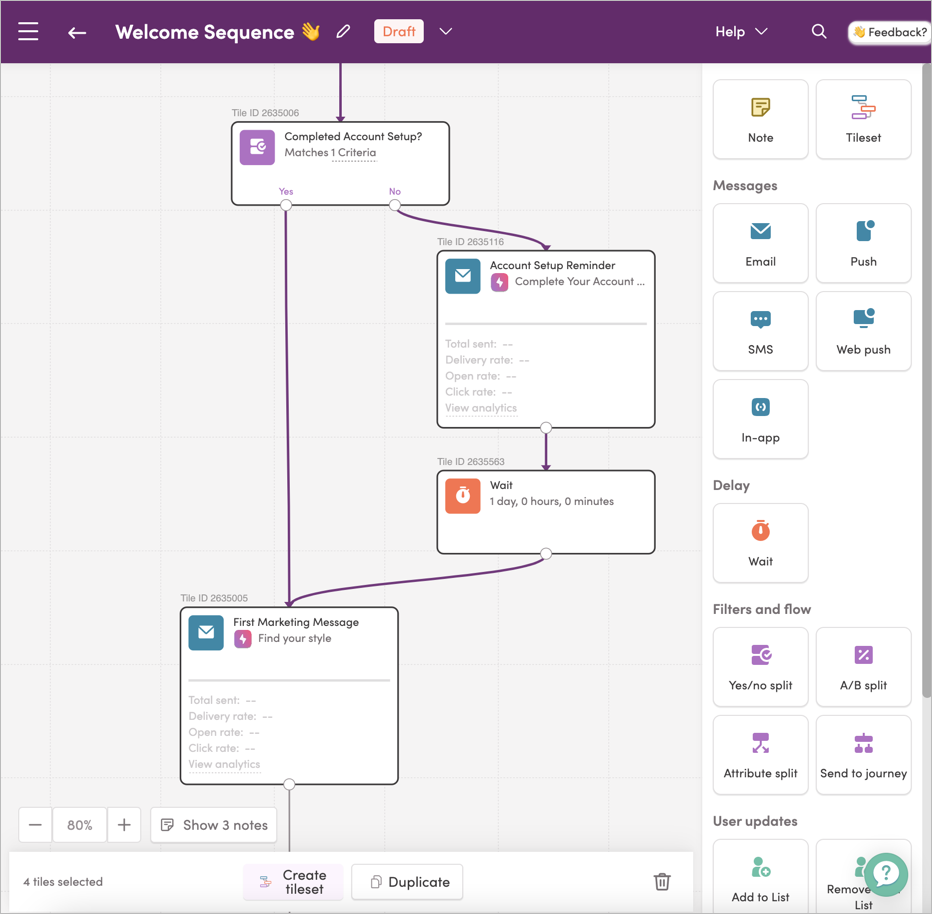 Once you've created a tileset, you and your teammates can quickly add it to any journey within the same project.
Grab a Tileset tile and drag it onto the canvas. Then, select which tileset you want to insert.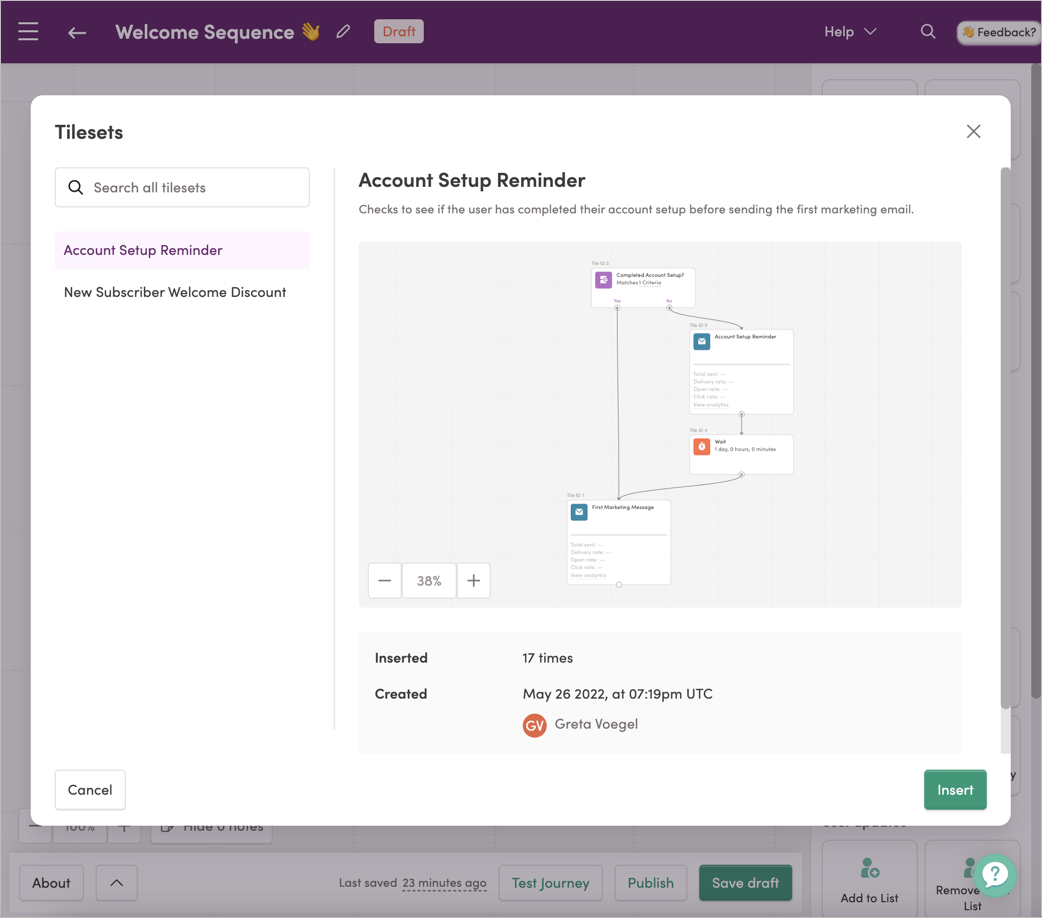 NOTE
You can save any kind of tile in a tileset except the Start tile.
When you save a tileset, all of your tile settings save too (except for send tiles—you'll need to set up the details for your campaigns individually).
Tilesets are not like snippets—if you edit a tileset, your changes won't affect any of the journeys you've added that tileset to in the past.
Once you've added a tileset to a journey, you can edit, move, or delete the individual tiles if you need to.
Saving a journey
To save your progress as you're building your journey, click Save draft. Journeys are not autosaved, so make sure to click Save draft every time you make changes.

NOTE
You can find all of your drafts under the Drafts tab of the Journeys page.
You can also download an image of your journey to share with other members of your team. To do this, click the arrow in the lower-left corner of Studio and select Save as image.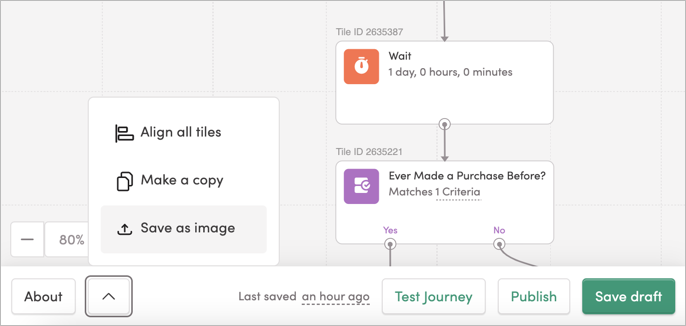 A PNG image will appear in your Downloads folder.
Publishing a journey
When you're ready to start adding users to your journey, click the Publish button. This will switch you to Published view.

When you publish a journey for the first time, it becomes live. Eligible users will be added to the journey and start receiving messages from the associated campaigns.
In Published view, you can see your journey's performance data and turn the journey on or off, but you can't edit any of the journey's tiles, settings, or connections.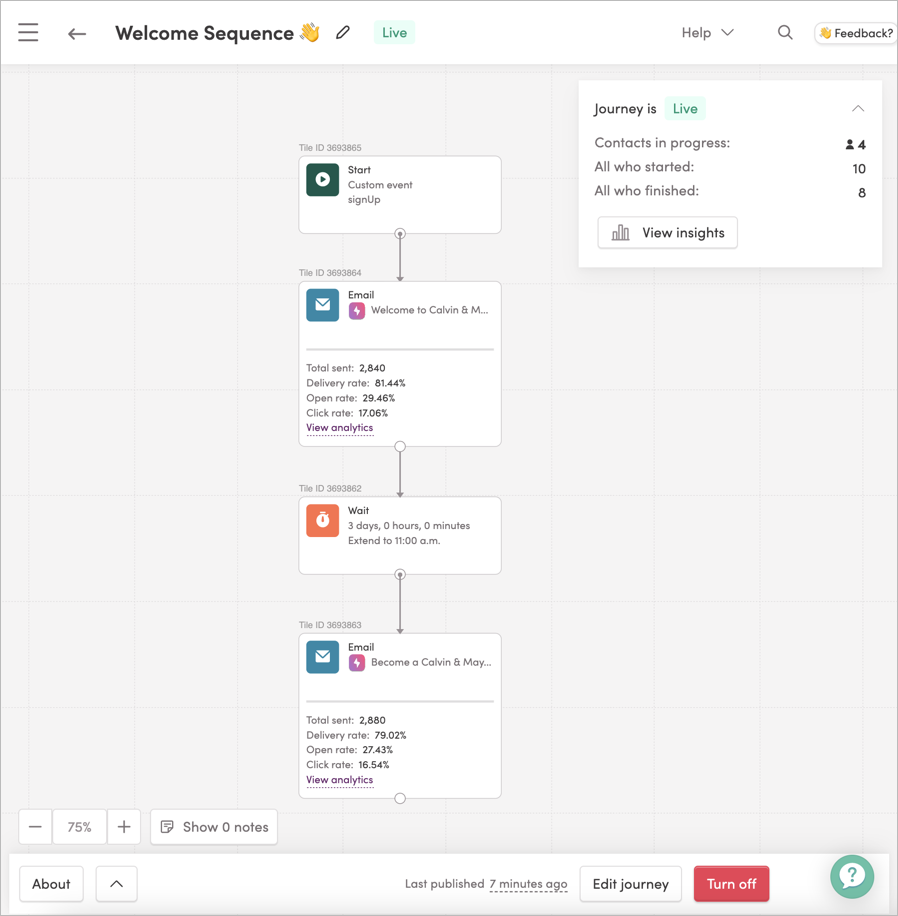 If you want to edit your journey, you'll need to switch back to Draft mode. (See Editing a journey).
Editing a journey
With Draft mode, you can work on a journey without worrying about messing up the live version. Edit some tiles, get a teammate to review your draft, and save your progress in the background while your users continue through the live version as usual. Then publish your changes when you're ready. (Take your time, we won't judge! 🙂)
Creating a draft
To edit a published journey, open the journey and click Edit journey. This will create a new draft version of your live journey and switch you back to Draft mode.
NOTE
You can have one draft version of a published journey at a time.
Once you've added a draft to a published journey, you can easily switch between the live version and the draft version to compare them. Click the arrow at the top of the page and select Published or Draft from the dropdown.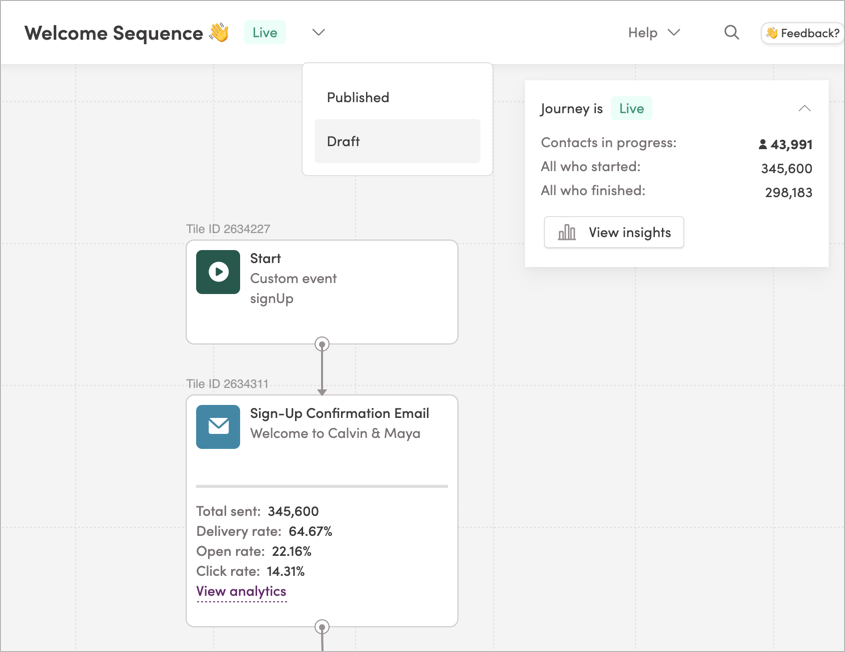 Or click View drafted edits in the bottom right of the page.

NOTE
Be careful! Only one person should edit a journey at a time—if you try to edit at the same time as one of your teammates, you could accidentally overwrite their changes.
When you're ready to make your changes live, click Publish. This will bring up a confirmation menu with a list of everything that's changed: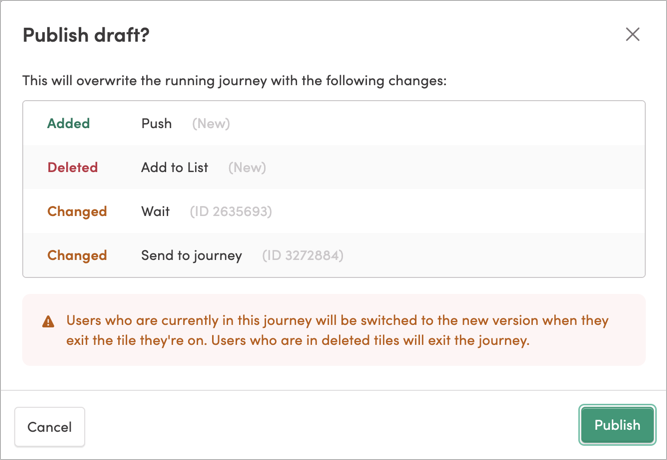 If everything looks good, click Publish. This will replace the current version of the live journey with the draft version. Any users who are currently in the live journey will be switched to the new version as soon as they complete the step they're on. Any users who were in tiles you've deleted will exit the journey.
Resetting a draft
If you change your mind about your edits, you can reset your draft and start over.
To do this, click the arrow button at the bottom left of Studio, and select Reset draft.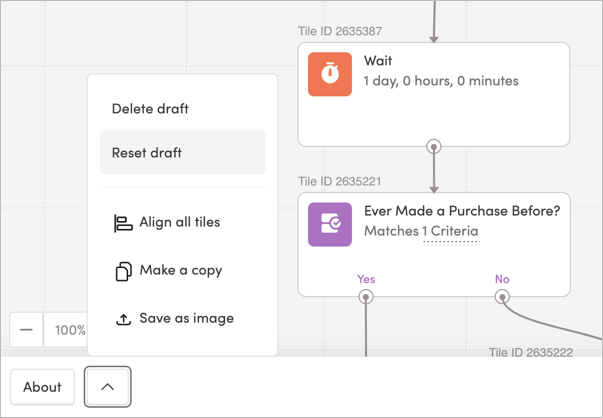 This will revert your draft to the same configuration as the published version, but it won't delete the draft.
Deleting a draft
You can also completely delete a draft.
To delete a draft from the Journeys page, go to the Drafts tab. Click the three dots menu on the draft's row and click Delete.

NOTE

This only works for drafts that have never been published before. (Ones that say Draft in the Status column.)

To delete a draft while you're in Draft mode editing a journey, click the arrow in the bottom left of Studio, and select Delete draft.
Once you delete a draft, you won't be able to recover it—so make sure you really want to delete it!
Turning a journey on/off
If you need to pause a published journey for a while, click Turn off. This prevents new users from entering the journey and removes users who are already in the journey (after they complete the step they're on).

NOTE
To keep existing users moving through the journey, but prevent new users from entering, don't turn off the journey—disconnect the Start tile instead.
When you're ready for users to start entering the journey again, click Turn on.

To learn more about creating journeys, see Tutorial: Build Your First Journey.