Messaging Insights is one of several Iterable tools that help you understand the performance of your campaigns and make decisions based on that data:
Campaign Analytics displays performance metrics for a single campaign.
Reports let you compare a hand-picked group of campaigns by various metrics over a given time period.
The Dashboard shows aggregate performance data for an entire Iterable project (using customizable widgets).
Messaging Insights helps you to review the aggregate performance of your recent campaigns. You can filter your campaigns by message medium, campaign type, campaign state or campaign name/ID and then view performance metrics for your selected campaigns over a time period of your choosing.
You can also compare individual campaigns and inspect user engagement over time, by segment, by location and by device.
With Messaging Insights, you can identify key performance trends that can inform your marketing strategy.
Table of contents
Getting started
To use Messaging Insights, navigate to Insights > Messaging insights.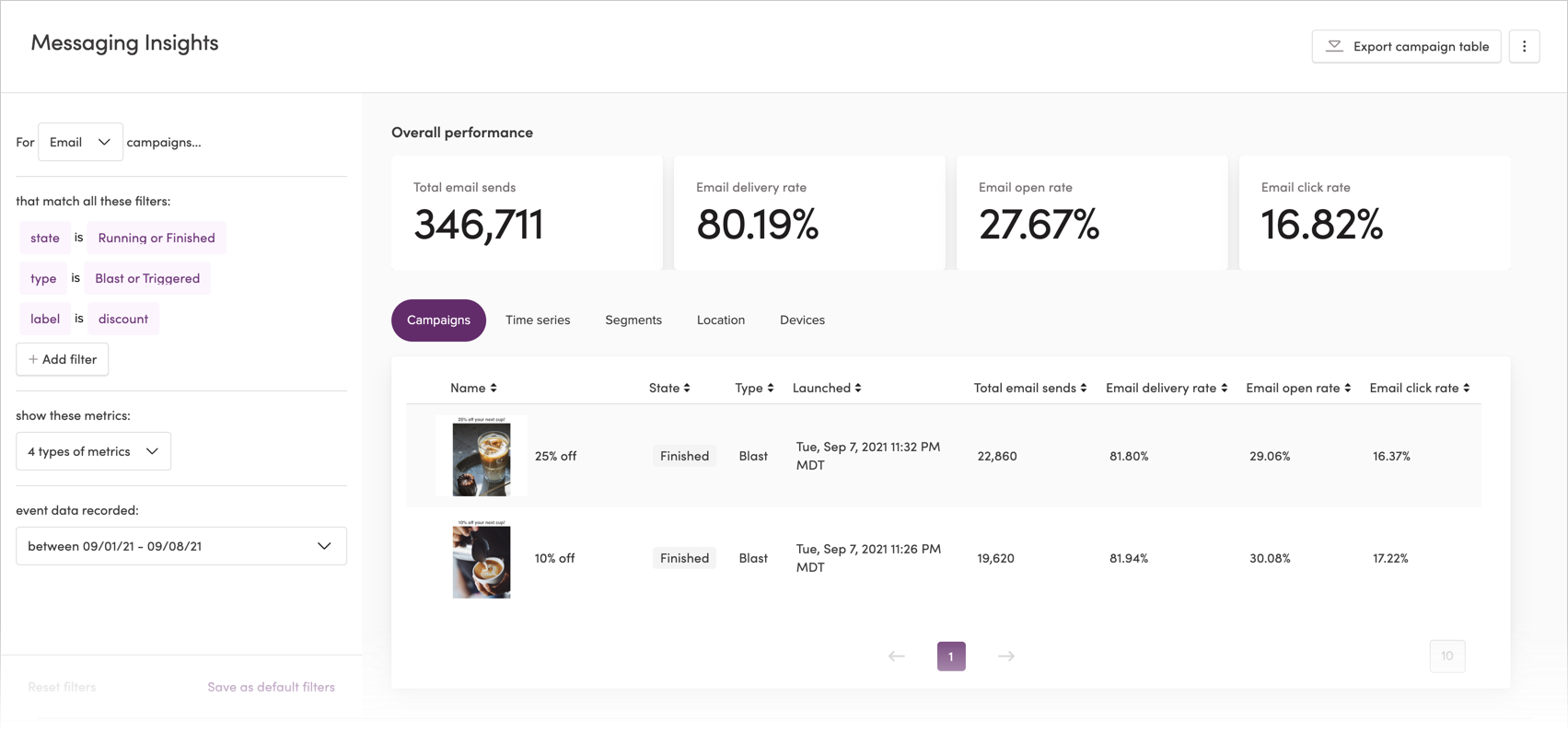 On the Messaging Insights page:
You can select campaigns for which you'd like to see aggregate performance metrics, specific metrics to display for those campaigns, and a date range for which you'd like to see them.

The Save as default filters link, at the bottom of the left-hand column, saves the current selections as the default view for all of your project's users.

Under Overall performance, you'll see a card for each of your selected metrics. These cards show aggregate performance metrics for your selected campaigns over the selected time period.

Below the Overall perforamnce section, tabs for Campaigns, Time series, Segments, Location, and Devices let you drill into the data you'd like to explore.

The Export campaign table button lets you export data from the Campaigns tab, and Export events (in the overflow menu) lets you export your raw event data (by type).
Selecting campaigns, metrics and dates
Messaging Insights displays aggregate metrics for selected campaigns over a date range of your choosing. The calculations displayed in Messaging Insights are based on the data collected by Iterable for those campaigns in that date range.
To select campaigns, metrics, and dates, use the controls in the left-hand column of the page:
First, select a message medium (email, push, SMS, in-app, or web push):

Messaging Insights can't simultaneously display metrics for different message mediums (for example, push notification and email).

Then, select campaigns by state, type, and name / ID (one or many), label, associated workflow, and message channel and type:

NOTE

Messaging Insights will display metrics for campaigns that match all filters for which you've selected a value. Filters without a selection/value won't affect the selected campaigns.

Campaign State filter (running, aborted, or finished):

Type filter:

This filter has the following values:

API Triggered - triggered campaigns
Blast - blast campaigns
With AI - campaigns that use Send Time Optimization
With Experiment - campaigns that have an associated experiment
Workflow Triggered - campaigns triggered in a workflow

Name / ID filter:

Label filter:

Associated workflow filter:

Message channel / type filter:

Select the metrics you'd like Messaging Insights to display:

The metric selection drop-down menu groups metrics by type. For each group, you can select no metrics, individual metrics, or all metrics.

Finally, select a date range:

When you select Today, Past 3 days, Past 7 days or Past 30 days, the date range that you see is relative to the day on which you're viewing Messaging Insights. Custom date remain the same no matter when you look at Messaging Insights.
Viewing metrics
Messaging Insights displays aggregate and data for the selected metrics, and also provides various ways to dig in to the data.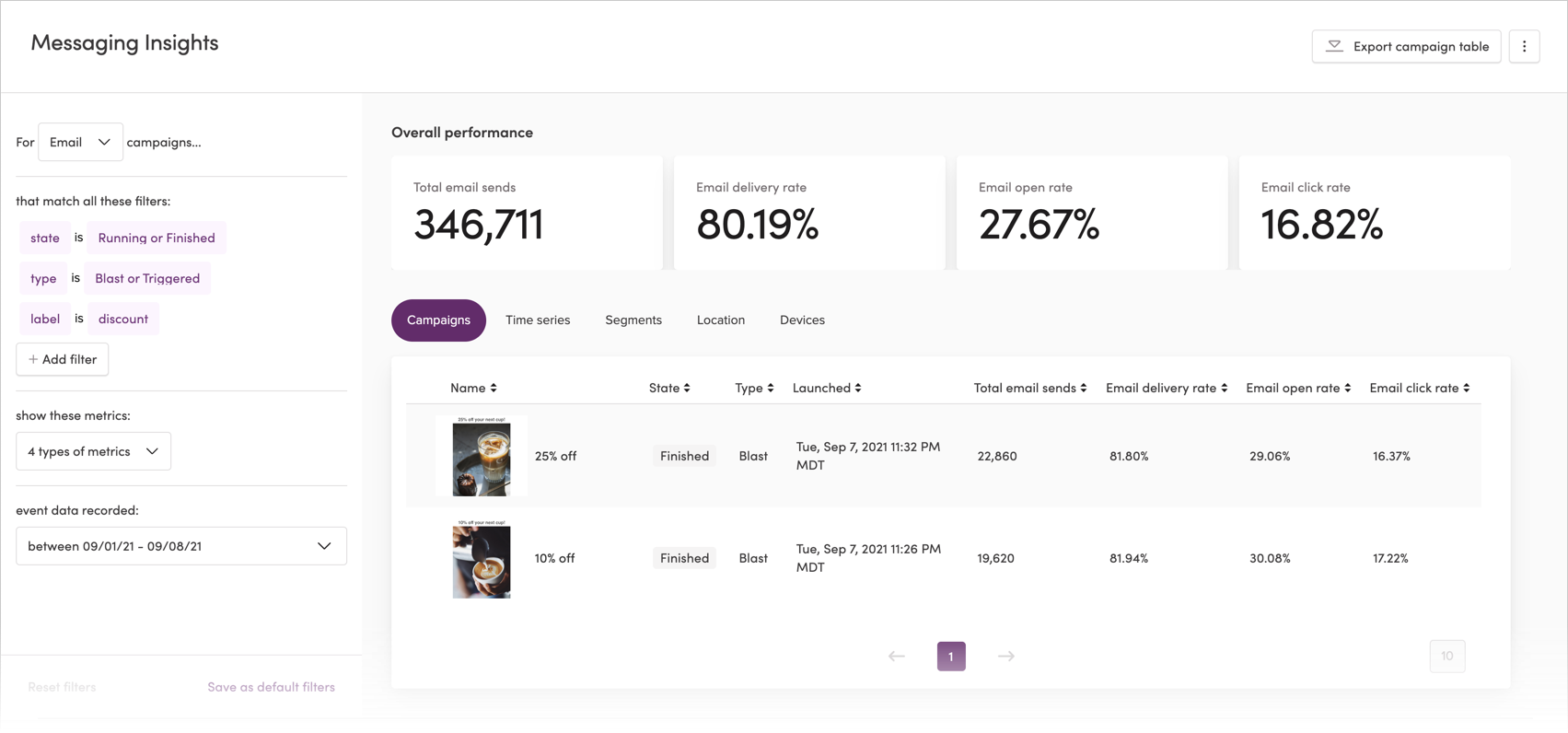 Below the aggregate data, various tabs display granular campaign performance data across different axes:
The Campaigns tab shows the selected metrics for individual campaigns:

The Time series tab shows the selected metrics over time:

The Segments tab lets you explore campaign data for a specific contact segment (based on values stored in your customers' Iterable user profiles):

The Location tab shows a map view of locations where contacts have opened messages from the selected campaigns.

The Devices tab displays the types of devices and clients that contacts have used to open the selected campaigns.
For more information about device types, see Device type breakdown.
Exporting data
There are two ways to export data from Messaging Insights:
To export a CSV file of all the data under the Campaigns tab (according to your current filter selections), click Export campaign table.

To export the raw event data for your aggregate metrics (according to your current filter selections):

Open the overflow menu and choose Export events:

In the Export events window, select the event for which you'd like to export data.

To download the CSV file, click Export.