As your Iterable projects grow to contain more users—and more custom events from their interactions with your marketing campaigns, websites, and apps—you'll likely want to understand which custom events they're using and how they're being used.
Iterable's Custom events screen provides details about a project's custom events, how many have been saved, and the journeys and dynamic lists that reference them.
This screen does not include information about contact properties — only custom events.
Table of contents
Viewing custom events
NOTE
We're rolling out updates to this screen over the next month, so if your view looks different, check back later!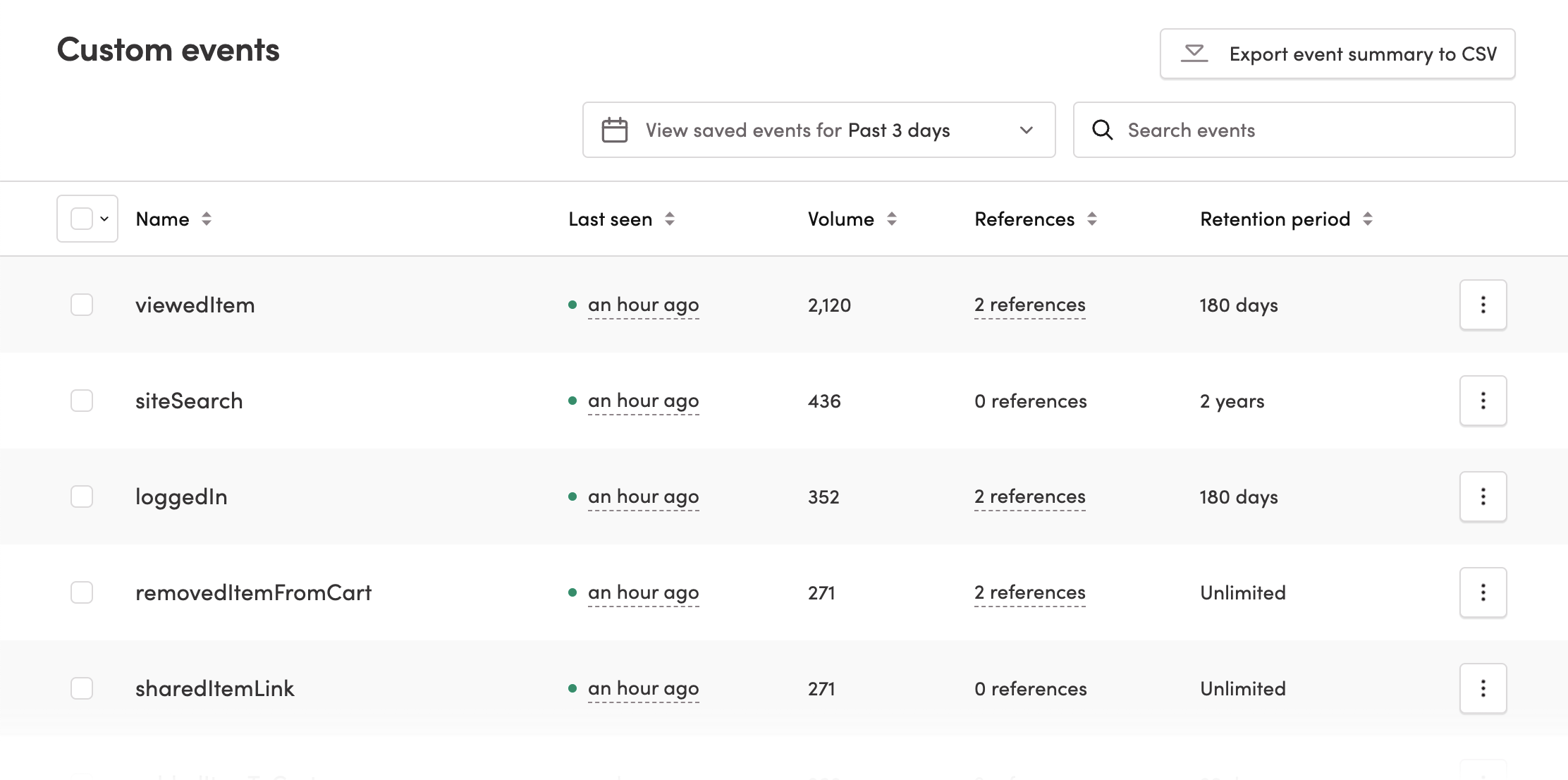 To view the Custom events screen, you'll need the Manage Settings permission. With that permission, go to Settings > Current project > Custom event usage.
This screen displays usage data for an Iterable project's top 1000 most-saved events (as counted over the project's entire lifetime). It only displays events that the project has saved at least once (regardless of whether or not they're specified on the Settings > Project settings screen).
From here, you can select a date range to display the events from that period, filter and sort custom events, view the dynamic lists or journey tiles that reference them, and export the displayed data.
NOTE
If your Iterable project has a large number of custom events, the data on this screen may load slowly.
Iterable refreshes this data once per hour. If you don't see updates that you expect, check back a bit later.
Currently, the data displayed on this screen does not include campaign custom conversion events.
The Last seen column describes the most recent time that Iterable saved each event (from an API call, a customer data platform integration, etc.). Events that are Allowed but not Saved (as configured on the Settings > Project settings screen), do not impact this value.
Filtering events by date range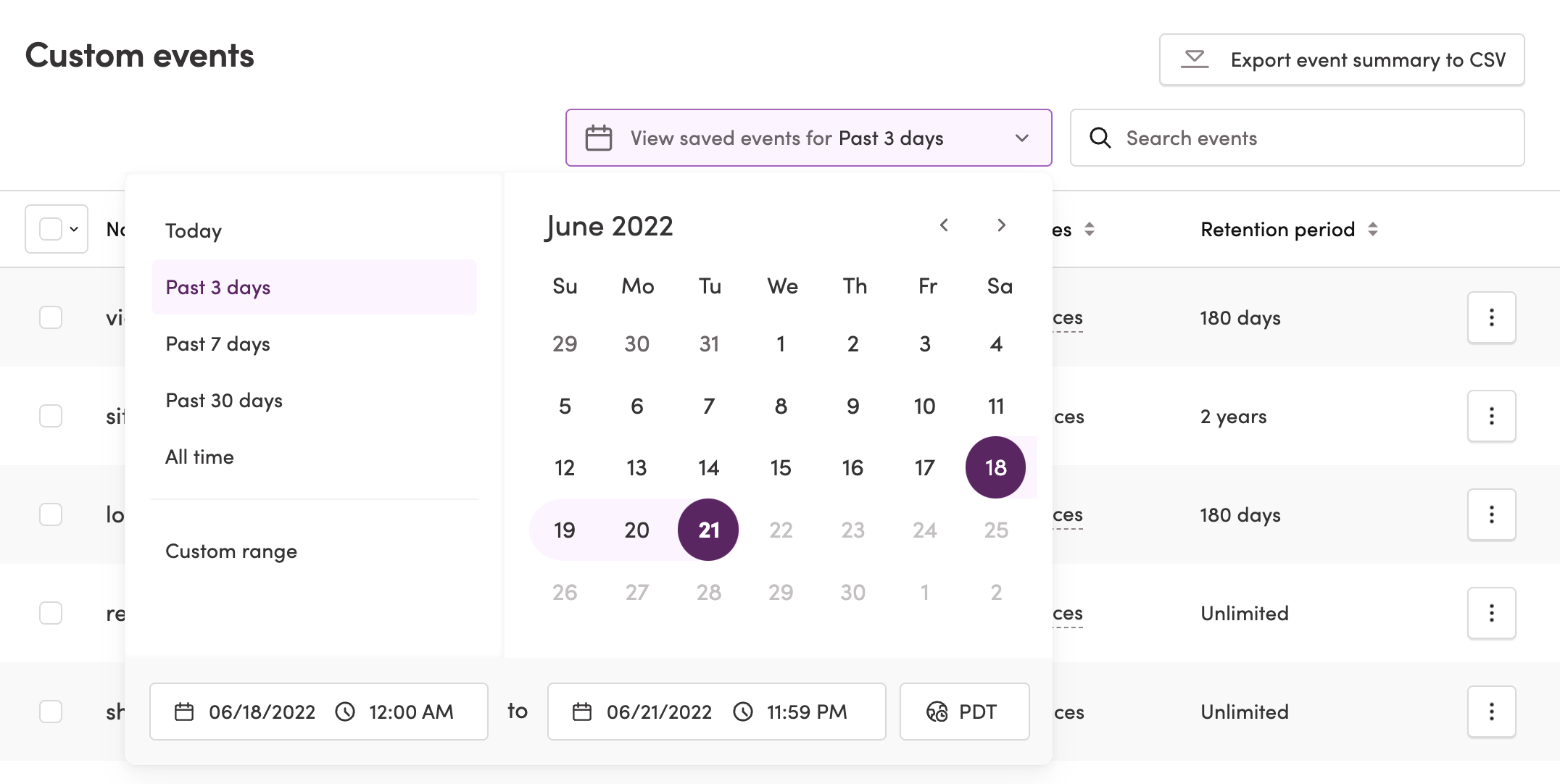 To display the events from a certain period of time, use the date picker near the top of the screen to select a date range. Make sure to pay attention to the selected times and time zones.
NOTES
After you use the date picker to narrow your search, the Custom events screen still only counts and displays events whose names correspond to the top 1000 all time most collected event names in your project. However, the event volume count will only include events that were collected during the selected date range.
For any given set of dates, Iterable caches the results of the custom events query for one hour. If you make a query, new data arrives, and you make a new query with a different date range, you may see inconsistent counts until the cache refreshes. (This cache is stored on our web server for all of your project users. Refreshing your browser will not refresh the page data.)
Viewing the lists and journeys that reference your custom event
When creating journeys, or defining segmentation queries for dynamic lists, you may select contacts who have certain custom events in their history. From the Custom Events screen, you can see a combined total of the lists and journeys that reference your custom event in the References column.
To see the names of the list and journey references for an event, click on the overflow menu (three dots) and select View references.

You'll see the list(s) and journey(s) that use your custom event on the right side of the page.
List references - The dynamic lists that use the custom event to populate users. To view the list, click on the List ID.
Workflow references - The journey(s) that reference this custom event in the provided Node ID (or Tile ID). To view the journey, click on its name.
For example, in the above table, clicking View references for the viewedItem event brings up the following screen:

NOTE
Segmentation queries used to define static lists can reference custom events, too. However, when saving static lists, Iterable does not retain their segmentation queries—and therefore loses any association with custom events. Because of this, the Custom Events screen only counts and displays dynamic list references.
Managing custom event retention periods
Another data point you can see in the Custom events screen is an event's retention period. This defines how long a custom event is stored in your project before it is automatically deleted.
To learn more about retention periods and how to manage them, see our related guide, Managing Custom Event Retention.
Further reading