Welcome to Iterable! This guide will walk you through setup requirements and considerations, as you look to configure and launch your first blast campaign.
In the guide, we will:
Create your organization and first project
If you do not yet have access to Iterable, reach out to your primary contact to have your organization and logins created within the app. If you do not have a primary contact, reach out to support@iterable.com.
You must assign an account owner to your organization. This person will have super admin privileges and will be the first to have access to the app. For any person added after that point, you can assign permissions in accordance to the roles outlined here.
Recommended support articles
Update project settings
Navigate to Settings > Project Settings and configure the project settings. Remember to save any updates you make by clicking Save Project Settings at the bottom of the page. For more information, read Project Settings Overview.
If you plan to use our auto-appended unsubscribe block or our subscribe or unsubscribe successful pages, we recommend that you name your production project something that will make sense to your subscribers. See the example unsubscribe block below with the project name underlined in red:

In addition to having a production project, we recommend that each customer has at least one sandbox project, where you can test things like API calls and workflows, and can explore all of our functionality without impacting the production project in any way.
To create additional projects:
Click your account in the upper-right.

On the side menu that appears, click Create a New Project:
Recommended support articles
Update DNS records
If you plan to use Amazon SES for email sends, ensure that you've filled out and saved your custom project sending domain in Settings > Project Settings. Then, navigate to Settings > DNS Setup to view the records that need to be added (these records will be updated in accordance to your sending domain). You will need a system administrator who has access to your DNS records to add these files.
If you're using a service other than Amazon SES to send through Iterable, work with your account manager to ensure that the associated DNS records and configuration points have been accounted for.
Adding these records will improve deliverability and enable link rewriting, which is necessary for click and revenue tracking.
NOTE: If you are using GoDaddy you do not need to include anything after the "links." in the first row. So for these records:

I would drop brian.com and only add in links.
Recommended support articles
Add senders
Navigate to Settings > Senders to add new email senders. We recommend that your senders' domains align with either:
The custom project sending domain defined in Settings > Project Settings (if sending through Amazon SES)
Sending domains defined in Settings > Mail Domains (if sending through another ESP)
If you do this step prior to adding and verifying DNS records, you will receive a confirmation email for each sender that you add.
If you intend to send SMS through Iterable, reach out to your account manager for assistance with integrating a Twilio account and sender.
Recommended support articles
Import subscribers
Before beginning your first import, we recommend that you familiarize yourself with what users and their associated fields look like in Iterable.
To upload a CSV file of subscribers, navigate to Audience > Lists and click Import List. The CSV file must contain only one column of emails. Emails that are misspelled or malformed will not be uploaded. Alternatively, you can paste in CSV data like this: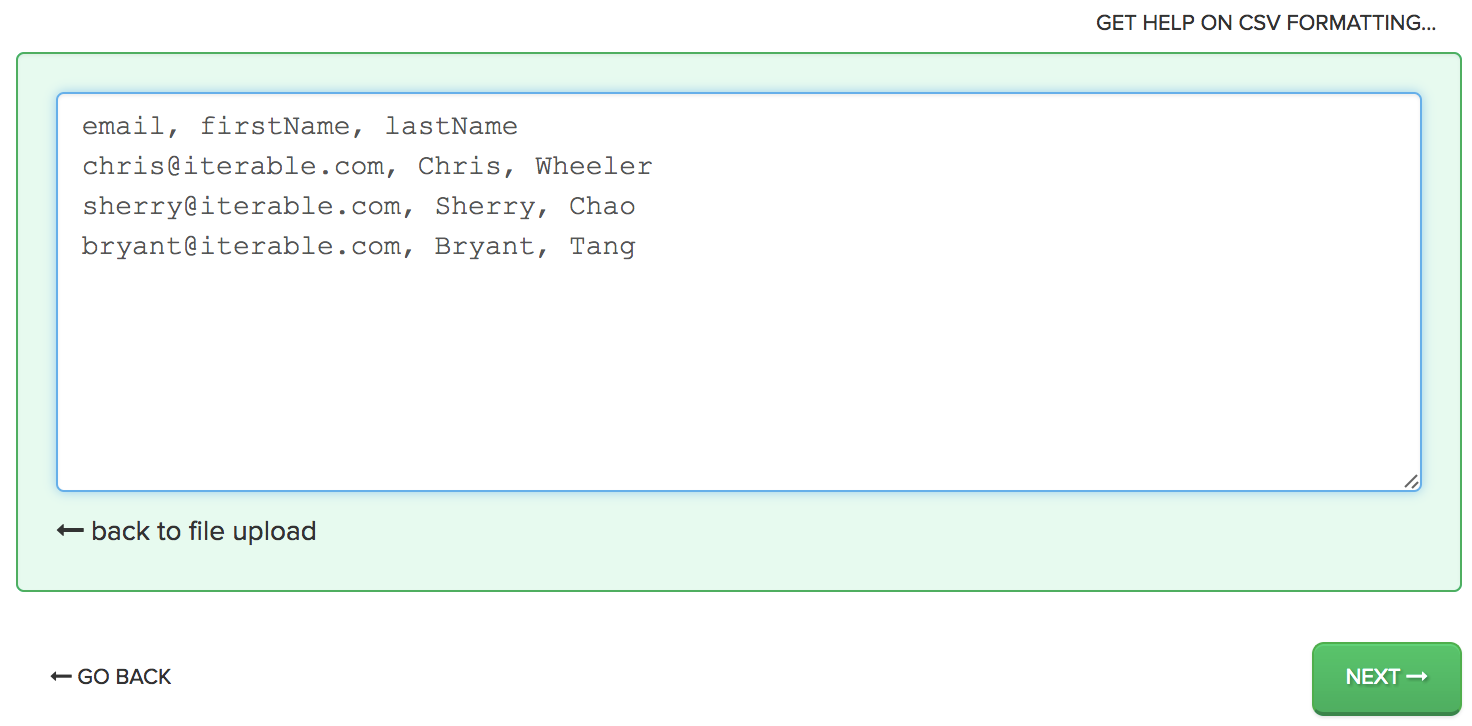 Recommended support articles
Upload or create templates
To upload a new HTML file template, navigate to Content > Templates and click Import a Template. You can then make changes using our WYSIWYG editor or click on Source to edit the code directly.
To start from scratch, navigate to Content > Templates and click Create a New Template. This creates a completely blank template.
You can find more information on the different template types and options for editing here. For content that is frequently used across templates, consider leveraging our snippets functionality.
Recommended support articles
Contact Iterable for review
Reach out to your account manager or email support@iterable.com for help with reviewing the initial setup that you've completed.
Create blast campaign
Find our blast campaign overview here.
If you are interested in sending triggered campaigns as well, see the Triggered campaign overview.