Iterable is a complete cross-channel customer engagement platform. Use it to message your customers across various channels (email, SMS, push, in-app messages, and web push notification) and grow your customer base, boost engagement, and increase user lifetime value.
Iterable lets you send the right message to the right device at the right time.
Audience
Iterable's functionality revolves around your users. Import all of your users from other services or from your own internal systems. Once they are in Iterable:
Content
Iterable allows you to include various types of content in the messages you send to your users:
Messaging
Iterable provides various ways to orchestrate messaging across all your channels and users:
Journeys add sophistication to your marketing campaigns. They outline the interactions a user can have with your brand (like a welcome sequence). You can build and edit journeys in Studio, a drag-and-drop interface that lets you set up each step of the customer journey: including entry rules, messages, delays, user profile updates, and more!

Campaigns send personalized messages to your users. Iterable supports both blast and triggered campaigns:

Blast campaigns are standard marketing campaigns: email, SMS, push, in-app messages, or web push notifications sent to all the users in a list. Blast campaigns can be sent according to your time zone or the time zones of your users.

Triggered campaigns are sent to users after a triggering event occurs: when a user is added to a list, when a user takes a particular action on a web site or in a mobile app, when a user property changes, etc.

TIP

Use Campaign Analytics to view performance metrics for a single campaign so you can monitor the results that matter most and inform the work you do on future campaigns.

Experiments let you A/B test any aspect of your campaigns. You have full control over what to maximize, what percentage of a list will participate in a test, how long the experiment will last, and more. Iterable will even automatically select the winner of the experiment.
Insights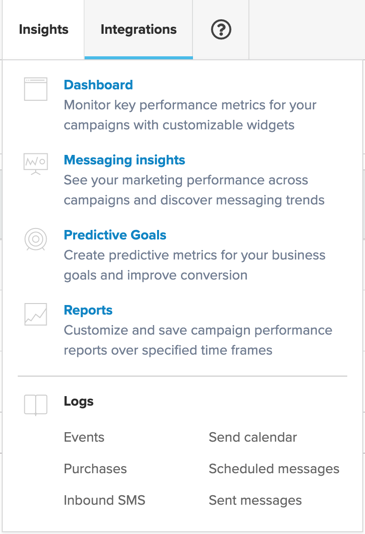 Messaging Insights displays the aggregate performance of your campaigns to help you identify performance trends that can shape your marketing strategy. You can filter campaigns and then view performance metrics for the selected campaigns over a time period of your choosing. You can also compare campaigns and view details about user engagement over time, by segment, by location, and by device.

Predictive Goals helps you identify which customers are most likely to convert on your business goals in the future, so you can connect them with experiences that match their interests, while promoting the outcomes you seek. To add Predictive Goals to your Iterable account, talk to your customer success manager.
Integrations
Integrations make it possible to extend Iterable, connecting it with third-party tools or your own systems:
Get started!
Browse the Iterable support center for more helpful guides and check out our YouTube channel for video tutorials and webinars.
Just getting started with Iterable? Take a look at Sending Your First Email Campaign.