Every writer has those moments when the words just don't come—it's frustrating, and can be stressful when combined with tight deadlines and limited resources. But, what if you could get help during those trying times, some creative suggestions or an alternate spin on text that you're just not thrilled with?
Welcome to Copy Assist, the Iterable AI feature that enhances and expedites the process of writing copy for your campaigns. When you're creating a campaign or template, enter text as you always do, and Copy Assist generates alternative suggestions for you to consider.
As you use it, remember that Copy Assist:
Is available for email, SMS, and push notification message channels in the following fields:

Email: Subject line and pre-header text
SMS: Message text
Push notifications (not web push): Titles and body text

Is supported for marketing and transactional messages, and for blast, triggered, and journey campaigns.

Requires a minimum of 10 characters of input and generates up to 160 characters of output.

Only bases generated content on the text you provide, not on campaign or user data.

Is intended for English text and isn't optimized for other languages.

Helps reduce lift when coming up with new ideas for your campaigns.
Using Copy Assist
When you enter text in a field that generates assistive text, click the Iterate icon in the bottom corner of the text field (pink star) to generate alternate text. You can choose text from this list, or click Try Again to generate other options.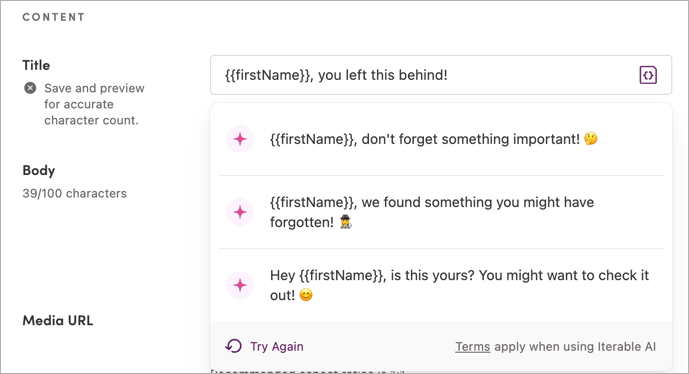 NOTE
Handlebars are generated as entered in your original text and are merely used as placeholders for proofing. Verify the accuracy of any Handlebars expression that's included in generated text before publishing it.
Learn more
To learn more about editing templates for a specific channel, see: